Hi Lovelies,
As you all know , this was my second NYFW and let me just say it was insane but so memorable. Some of the highlights were being backstage with Bobbi Brown at shows like Tibi and Veronica Beard, networking with my favorite bloggers / celebrities including Katy Perry, Patrick Starr, and Valentina Ferragni, sitting front row at top shows like Milly and Mara Hoffman, attending amazing presentations like Zac Posen, collaborating with a few amazing NYFW brands, being hosted by Hotel Wales in NYC, and so much more!
To begin, sleeping or eating was not on the agenda this past week but lots of hustling sure was!
NYFW DAY 1:
I began my first day in NYC hopping off a red eye turbulence filled flight and rushing to my hotel straight after for hair / makeup – and then arriving to the first round of shows.Since going through my entire day may bore you, the highlights of the first day of fashion week had to be the Milly Show! I actually had 5 other shows that morning that I could not make it to due to my flight being delayed. I visited a few showrooms and networked with some of my fashionista friends that day as well – but lets focus on the best part: MILLY!
The collection was seriously so beautiful and every piece could be adorned by me. I loved the catchy music and presentation that brought the looks alive. It was so much more than just a fashion show – you could feel the excitement, emotion, and detail going into this phenomenal presentation. I loved also bumping into a few familiar faces during the Milly Show, like the inspiring Heidi Nazarudin from – The Ambitionista.
Below, are some of my favorite images from the Milly Show.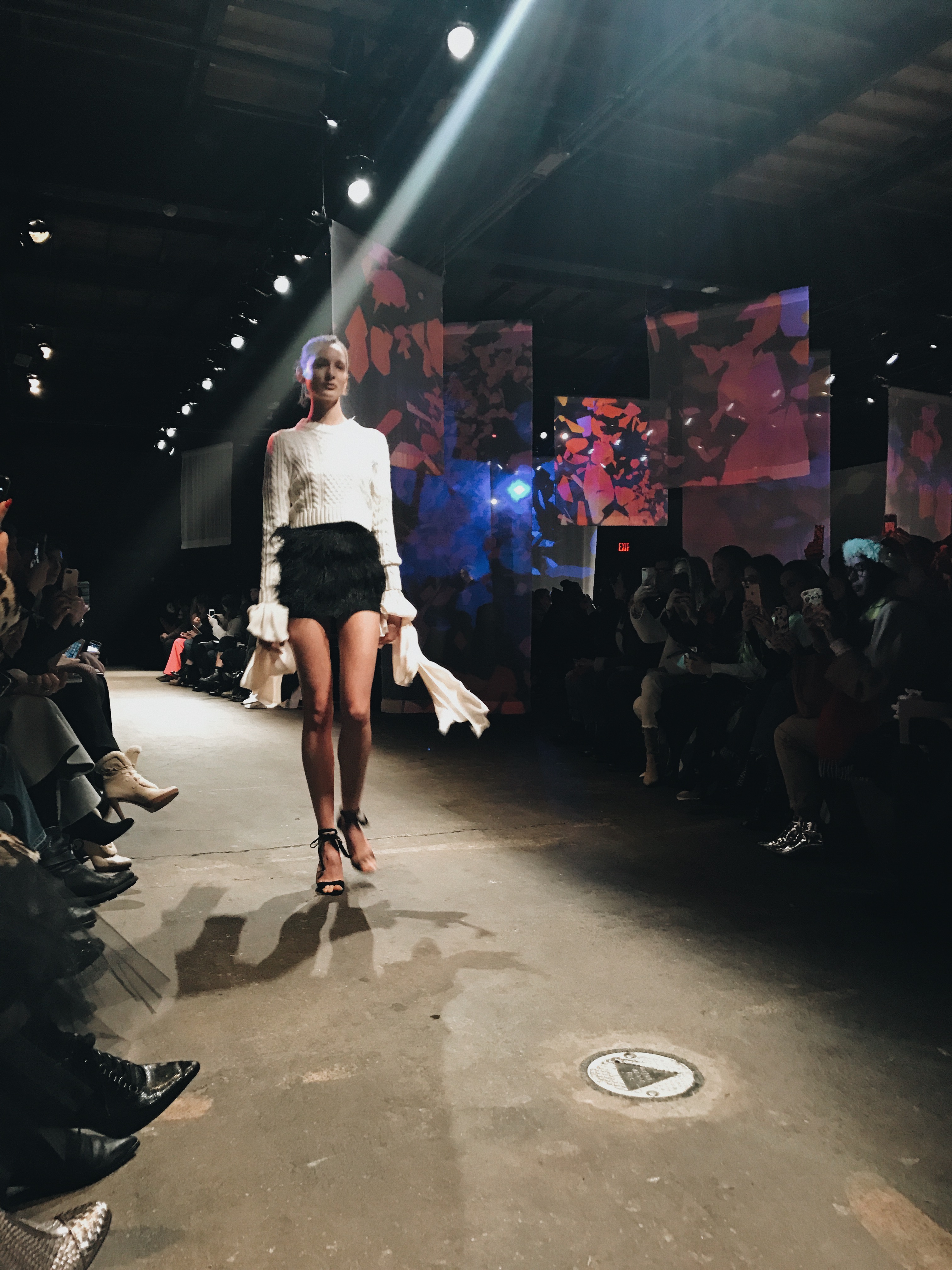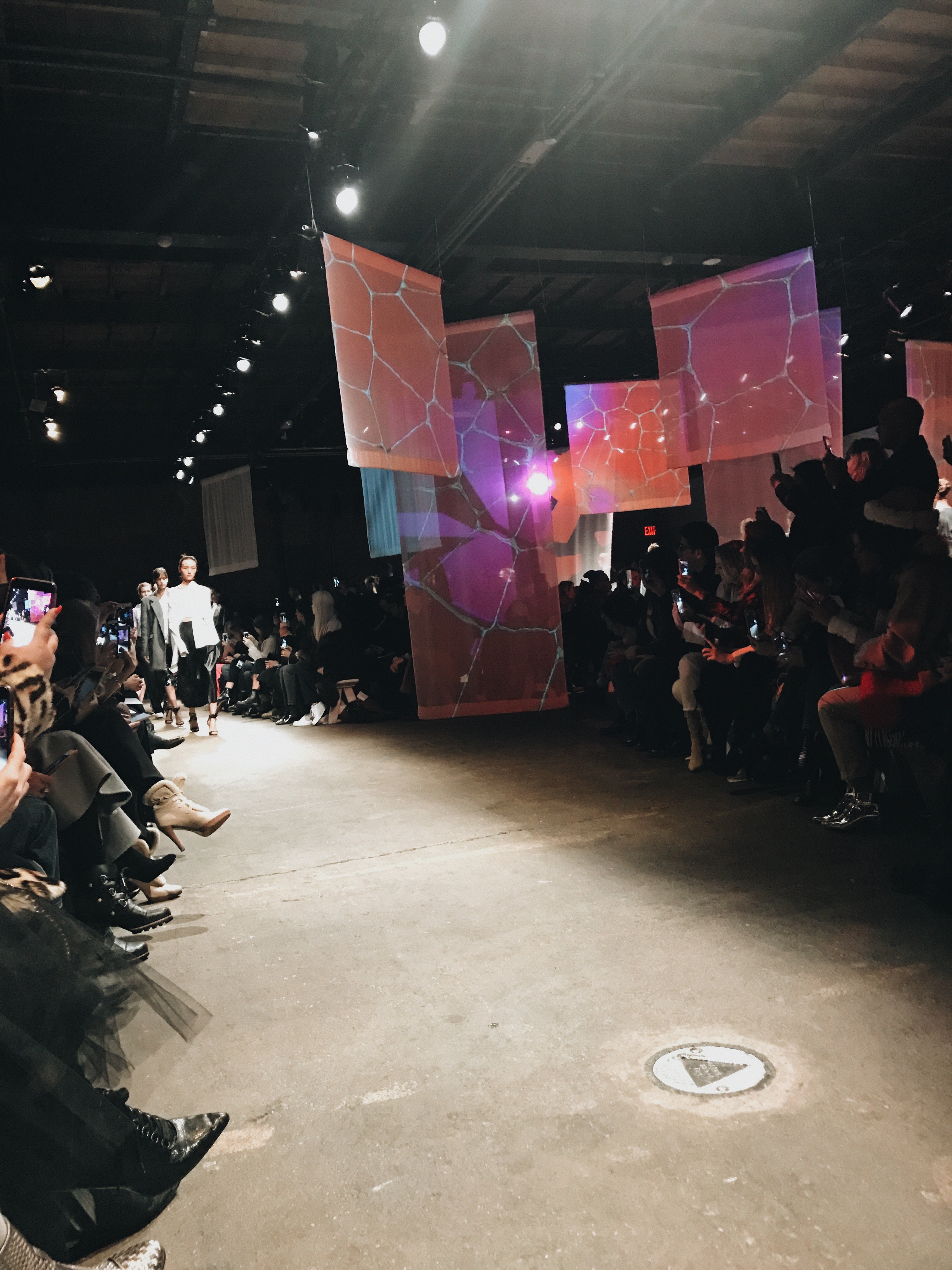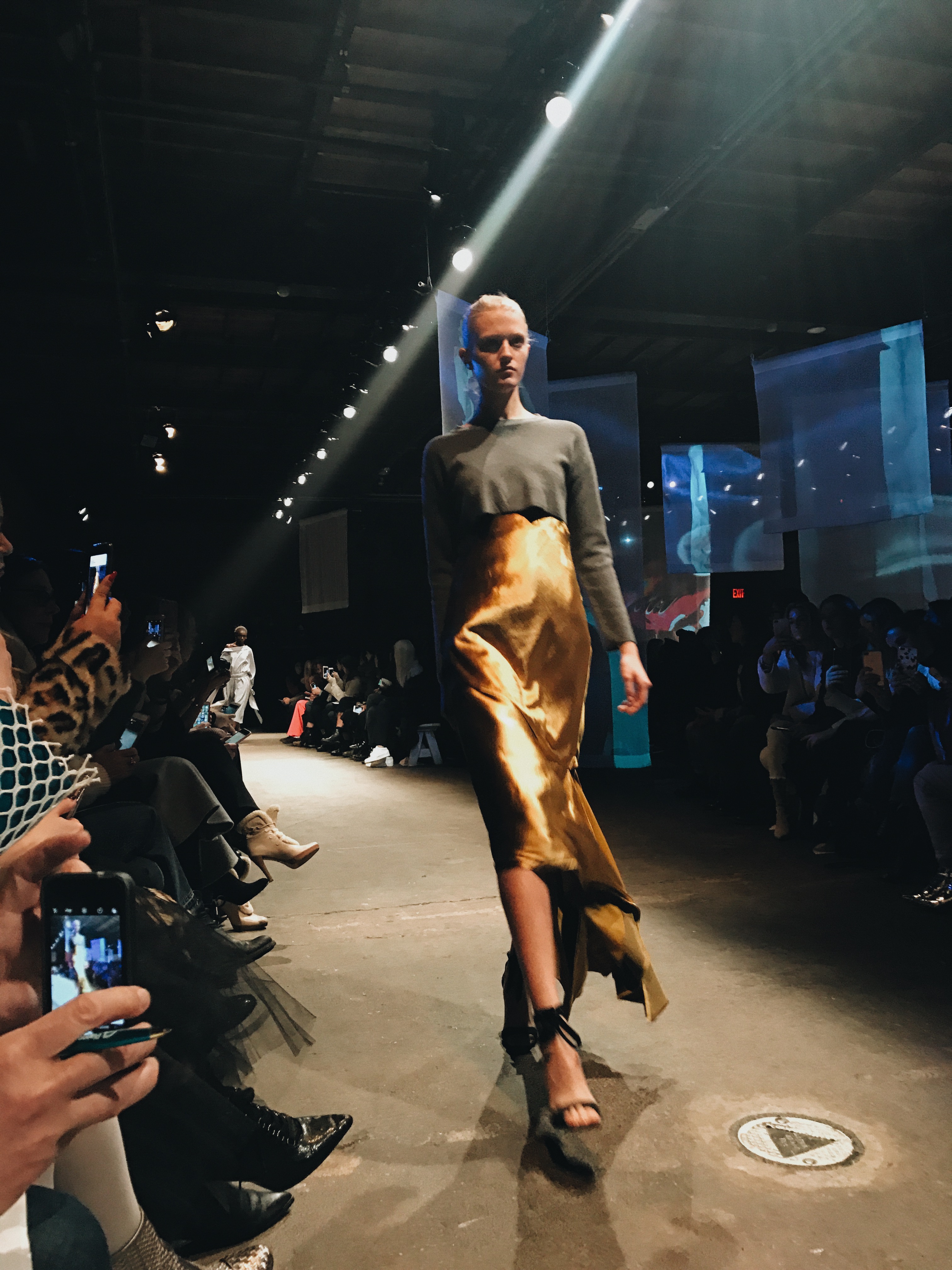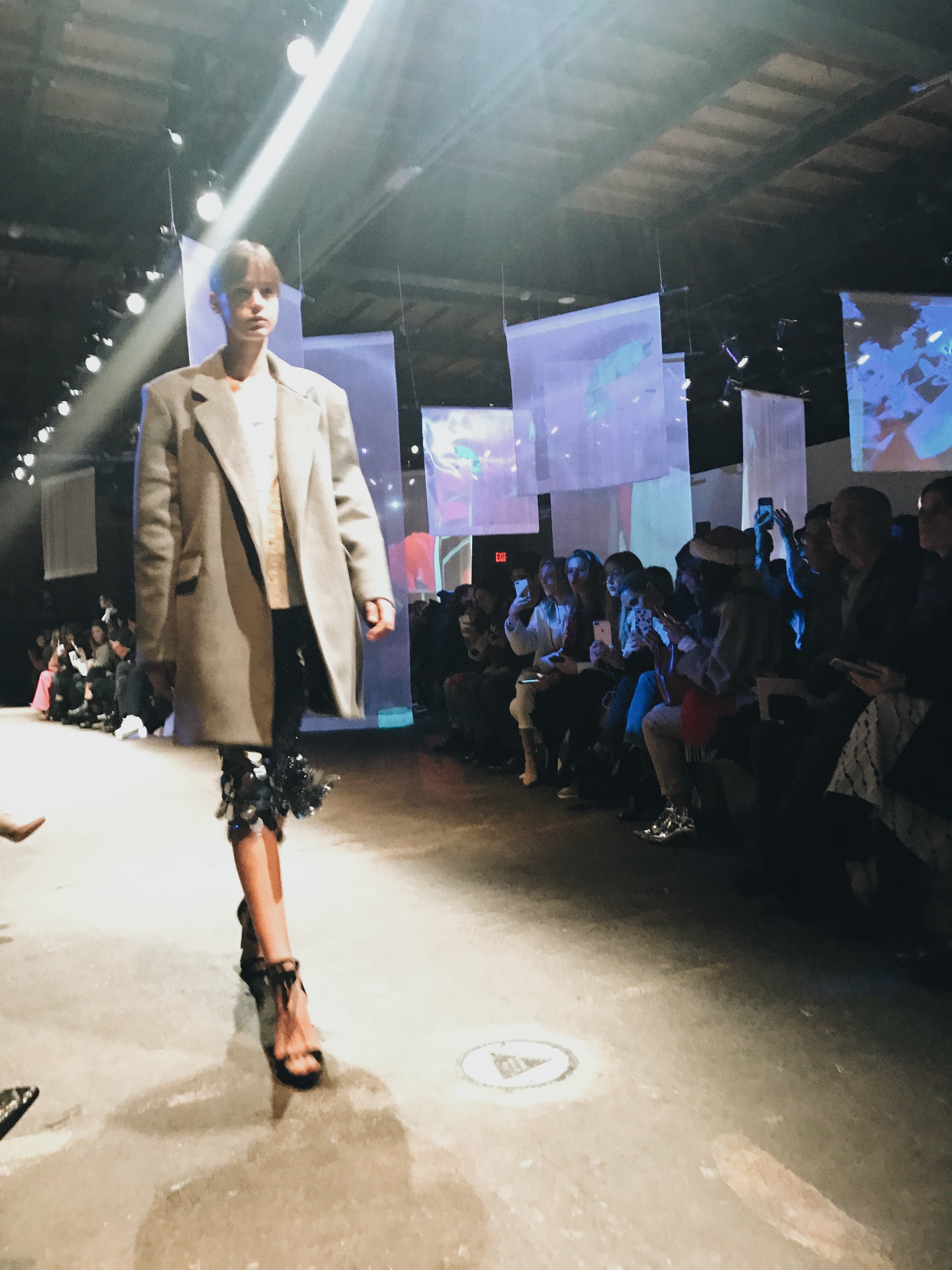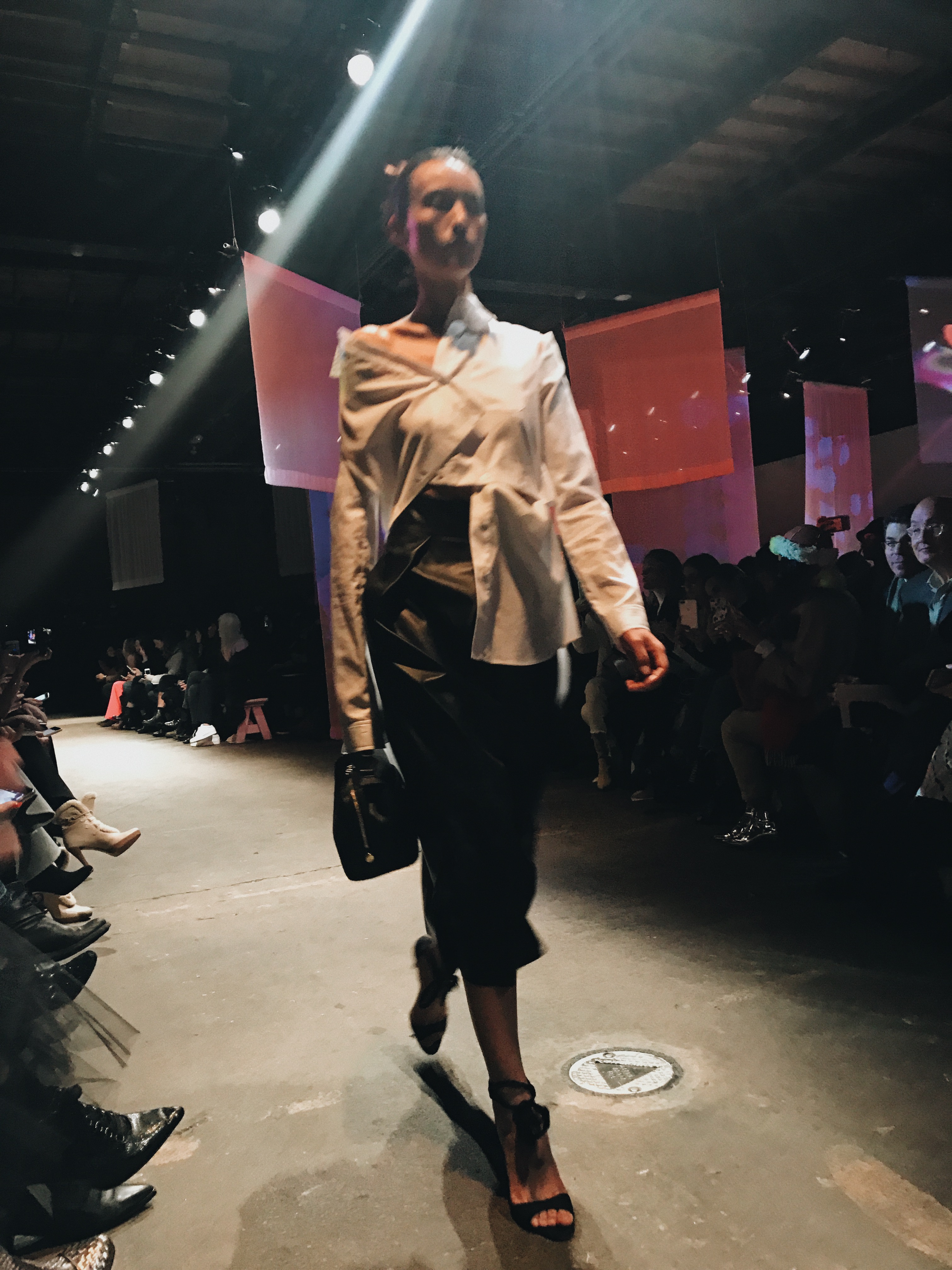 And here is an image of my look for the Milly Show. You can totally rock this look! The coat was from Laundry by Shelli, the  black mini dress was also from Laundry by Shelli, the bag was from YSL, and the shoes were from Nasty Gal. My hair was done at Dry Bar ( I went with waves), and I had my makeup done with Glam Squad (I went with a natural look since I did not want to be too glammed out for a morning of shows). You can shop the look here: (just click on the links), YSL Bag, Laundry by Shelli Coat, Laundry by Shelli Dress, Nasty Gal Boots.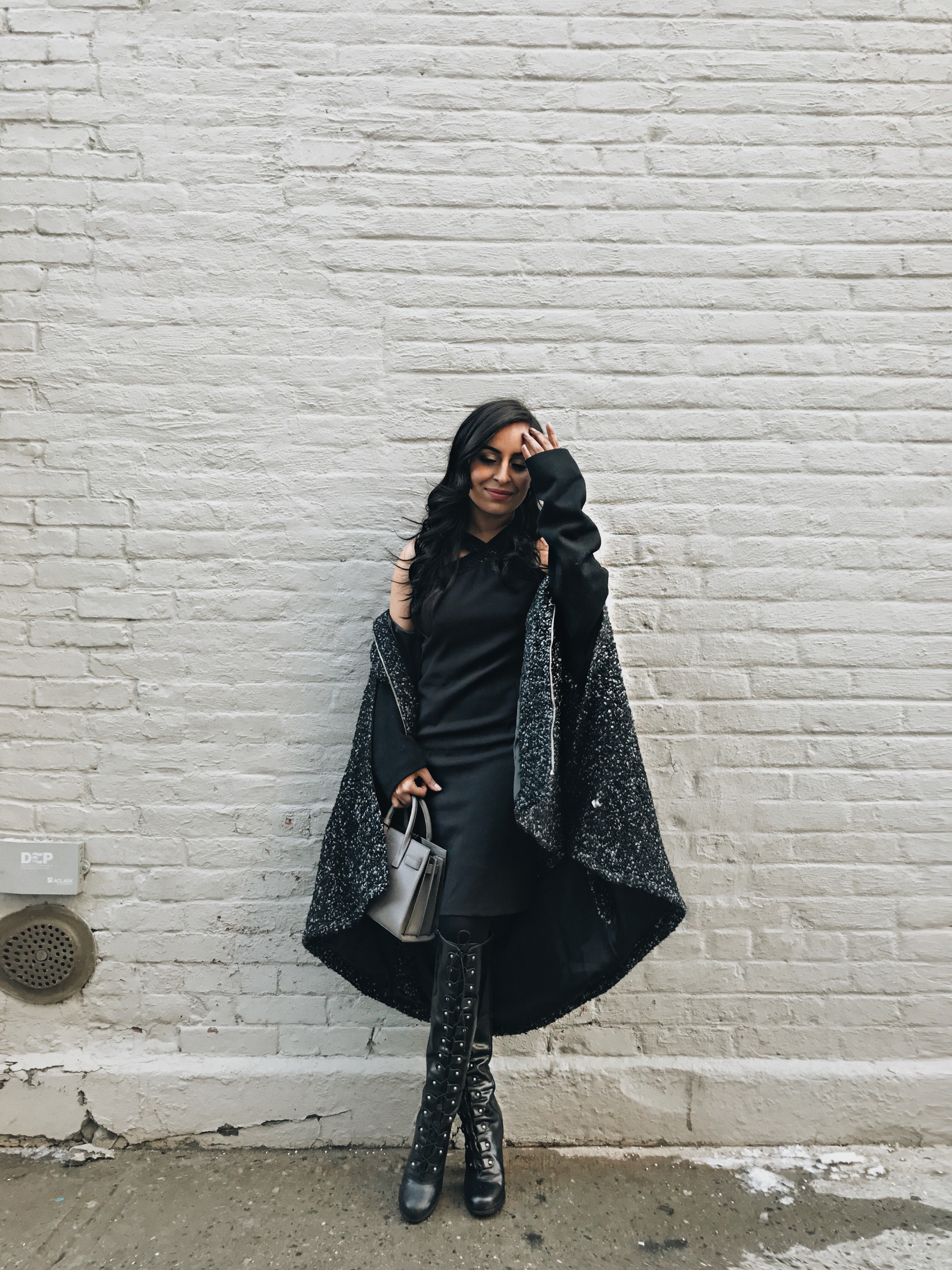 NYFW DAY 2:
The look I wore on this day was one of the biggest hits. I had so many people compliment this blush two piece set I was actually insecure about wearing! Ladies, do not be afraid to go all out for fashion week and wear crazy colors.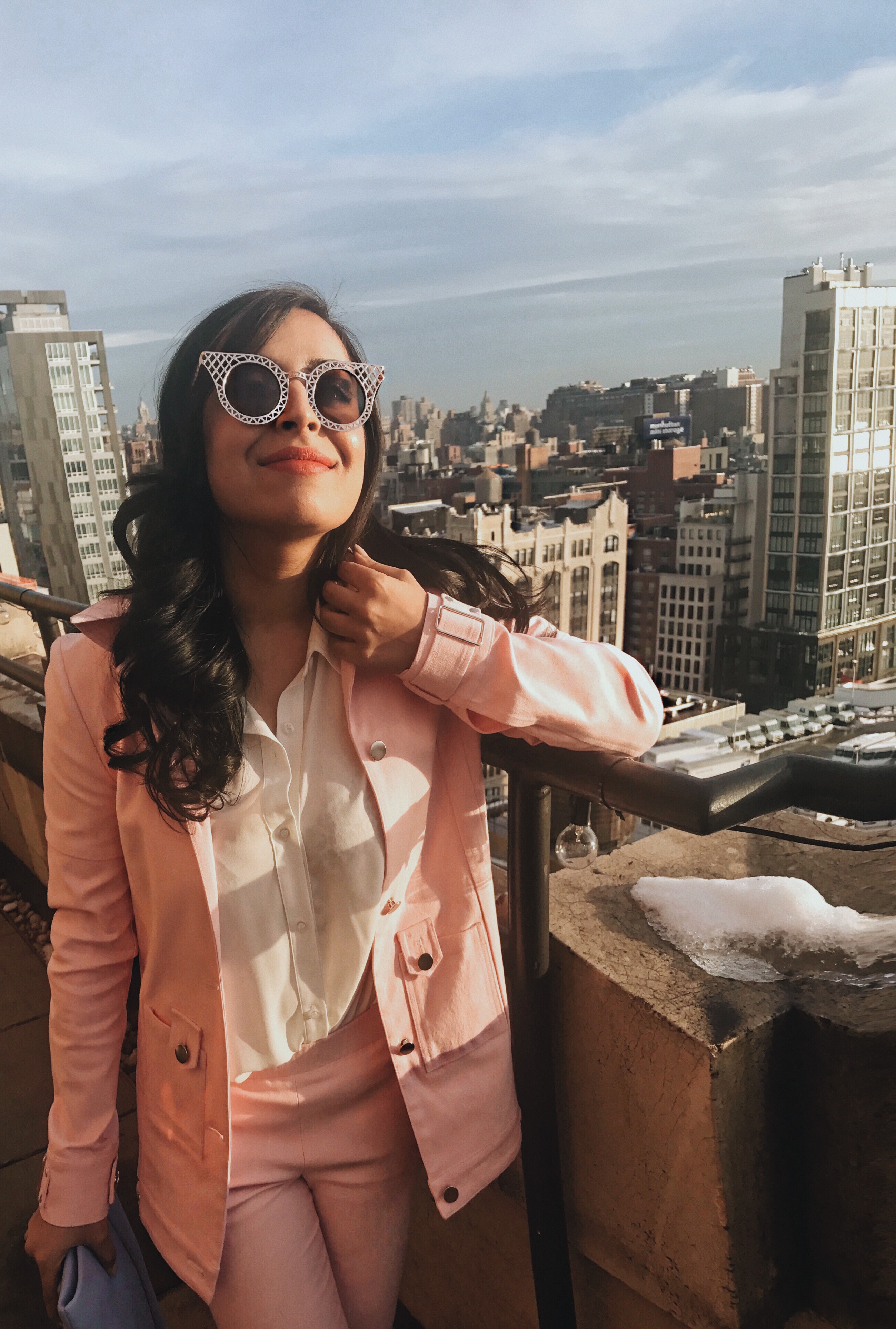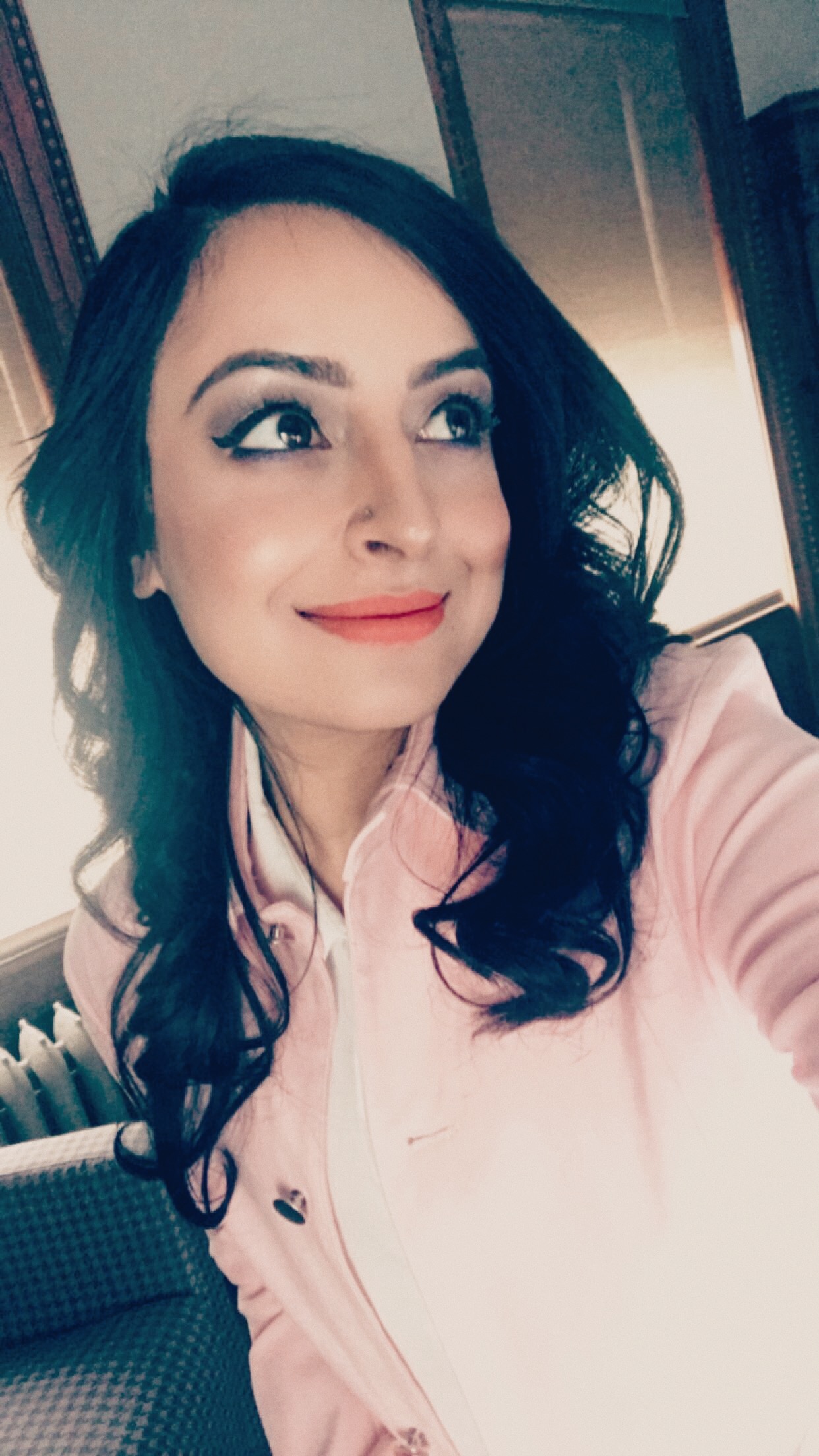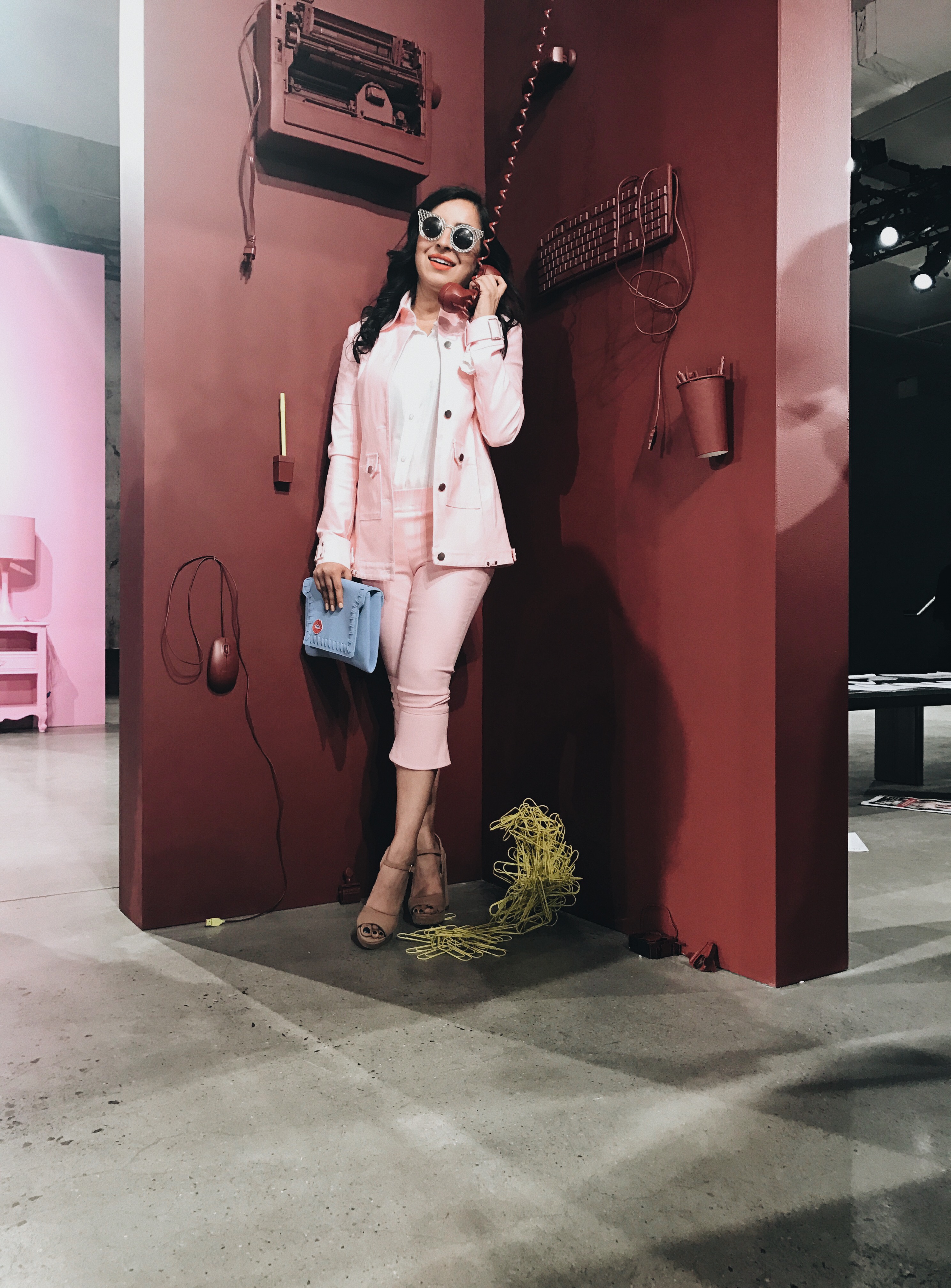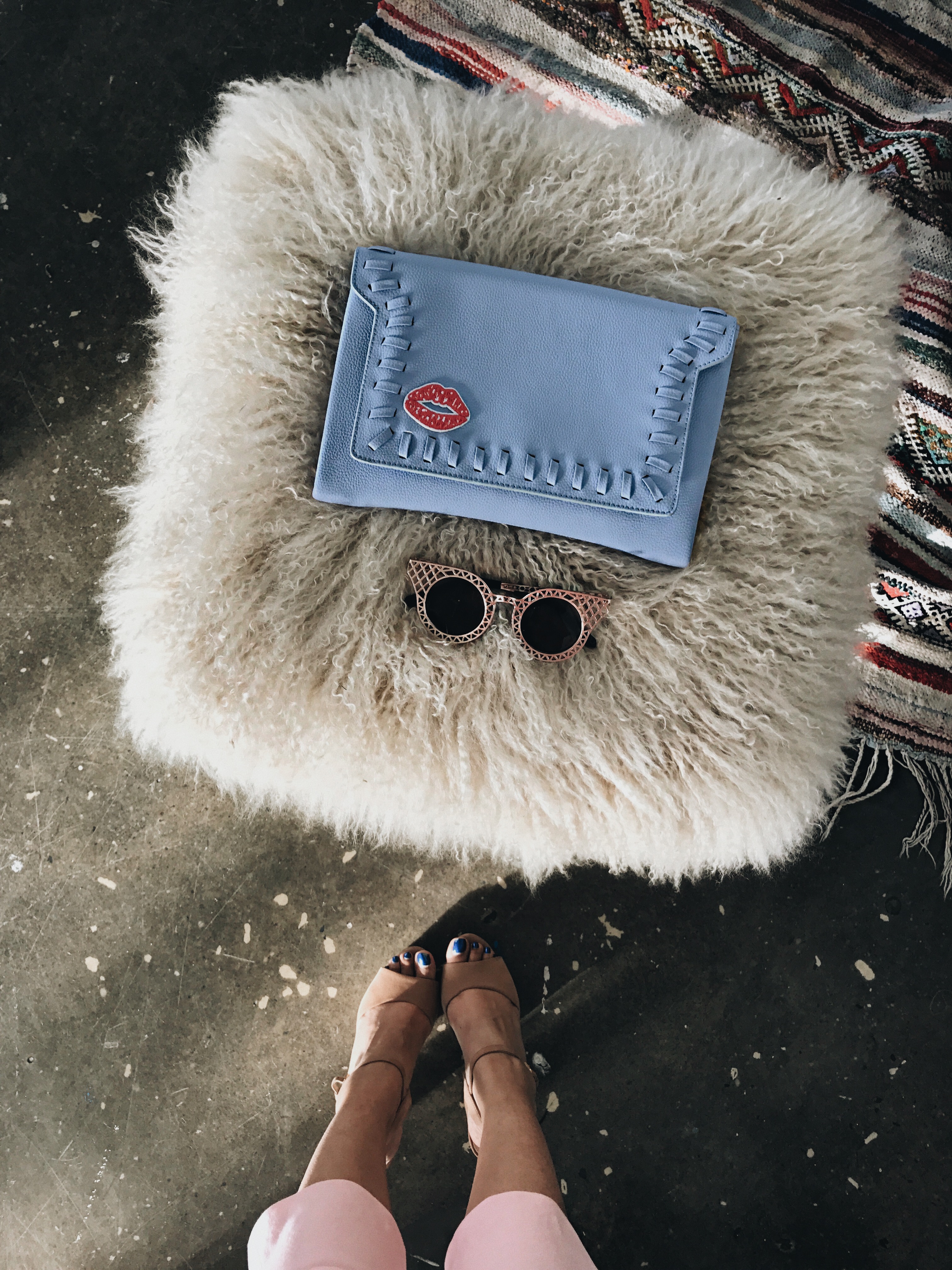 I will admit that I like to keep things simple, and stick to solid dark colors or neutrals but I am so glad I experimented with this out there look that people truly appreciated! This two piece blush set was so classy and elegant. It is from Saku New York. You can check out Saku New York's exclusive runway collection here and try to find some similar pieces.
So on day 2 – I woke up at 6 am and had my hair / make up done.
I then rushed to call an uber and head to Tibi Backstage and then attend the show.
I had the opportunity to interview the lead makeup artist at Bobbi Brown and ask her what the inspiration was behind the runway looks . It was such a fabulous experience and if you remember I put this on my instagram story!
I met some awesome people backstage including a few fabulous bloggers but the highlight for me was meeting Patrick Starr. 
I love to surround myself with genuine people who work hard and strive to spread a positive message so meeting Patrick was so great. If you have not heard of him, he runs an incredible beauty channel on Youtube and does many more amazing things :).
Soon, it was time to head off to the Tibi Show. I loved bumping into some of my favorite bloggers like Chriselle Lim and Camila Coelho.
Here are a few images I snapped at the Tibi Show. Each piece was seriously to die for.  I loved every combination. My favorite thing about Tibi is how effortless yet put together each look is.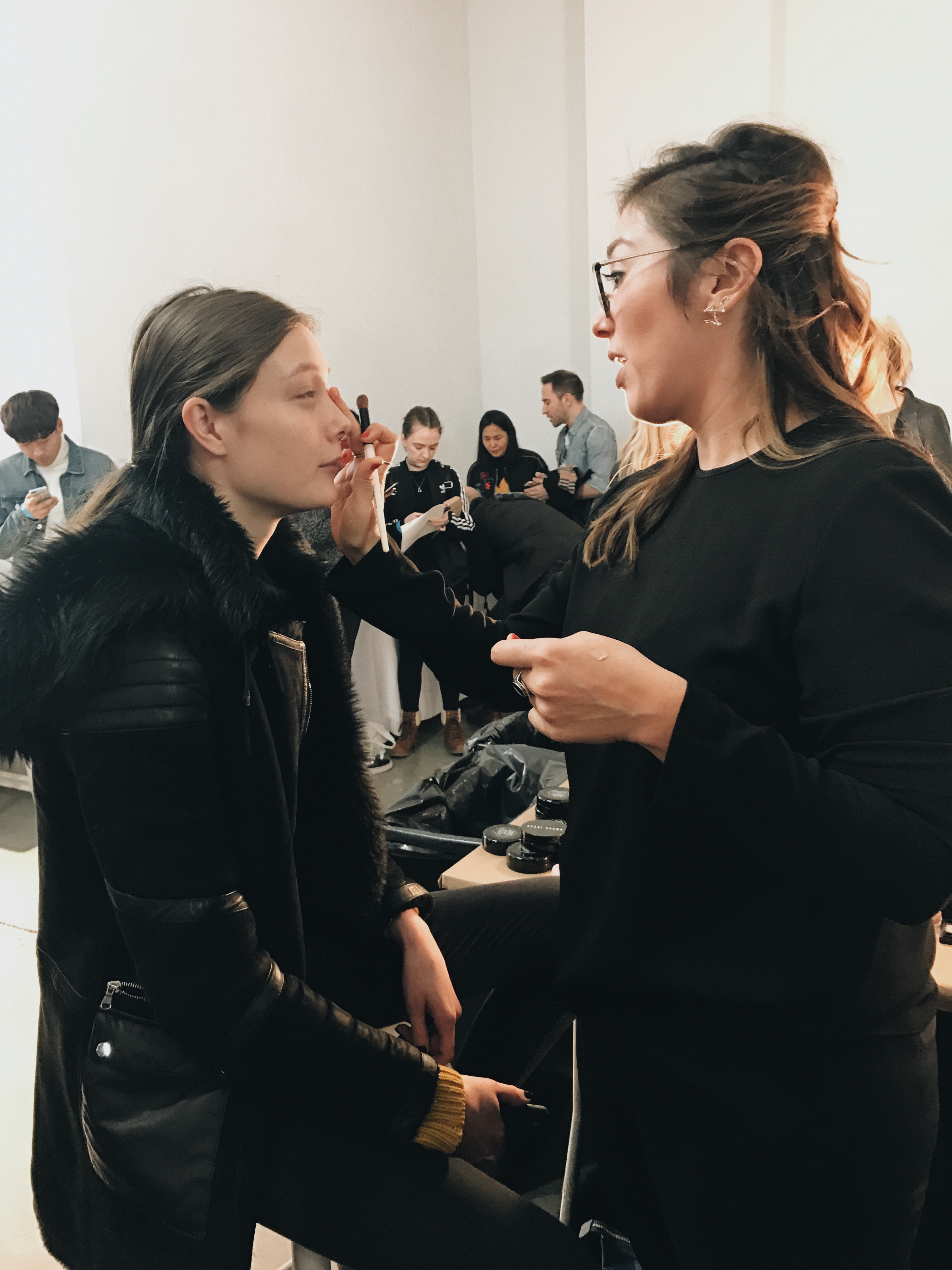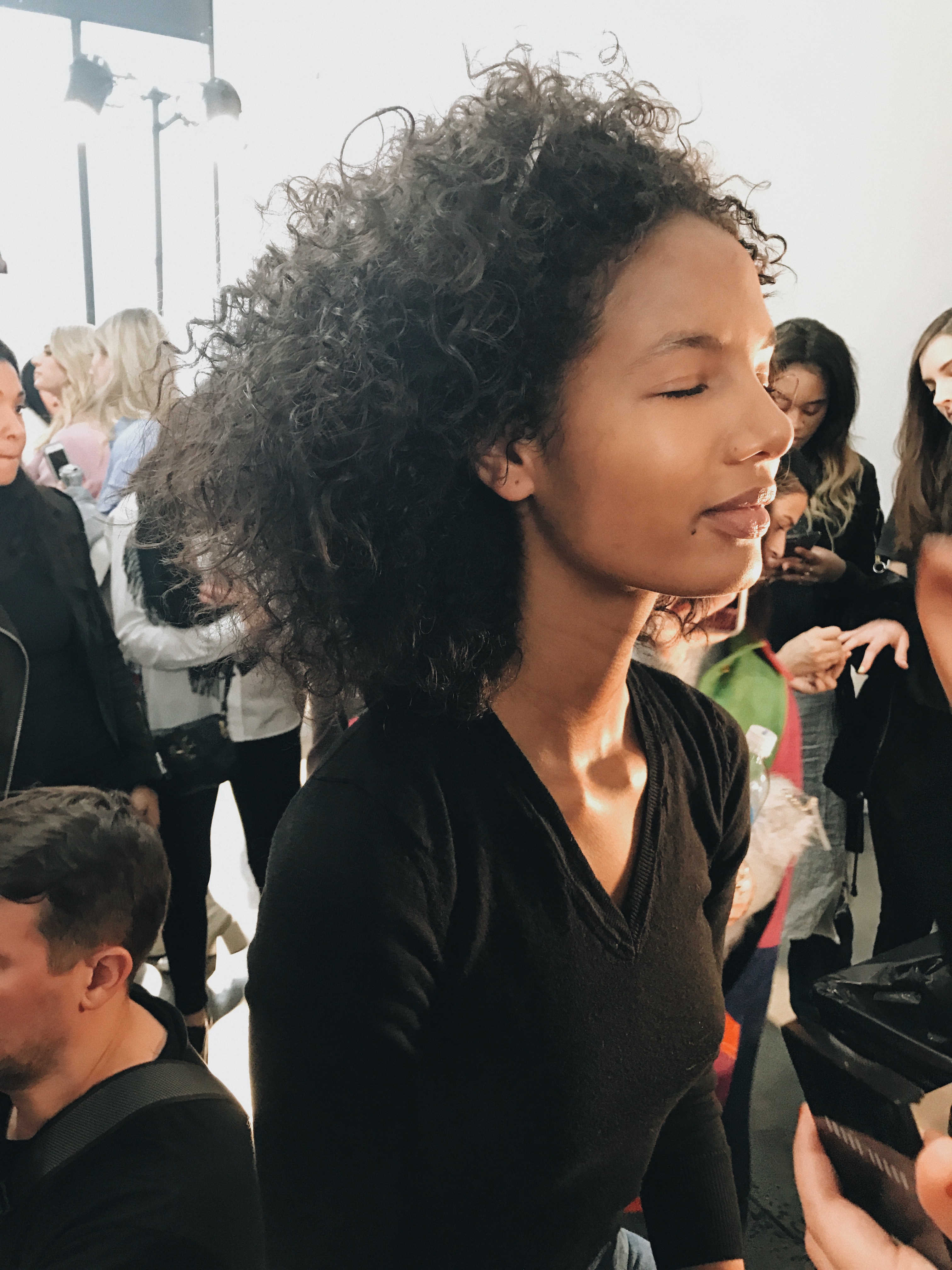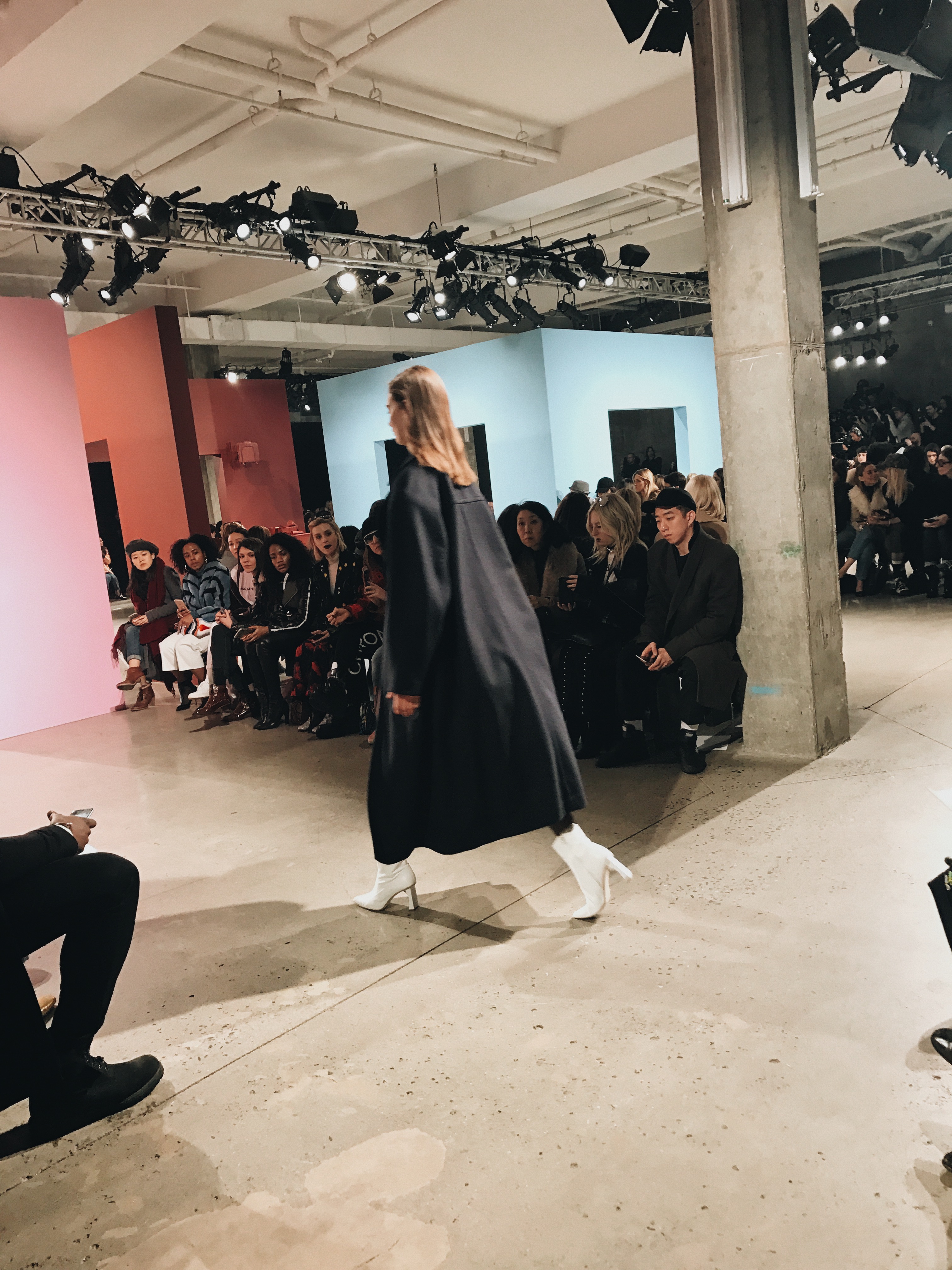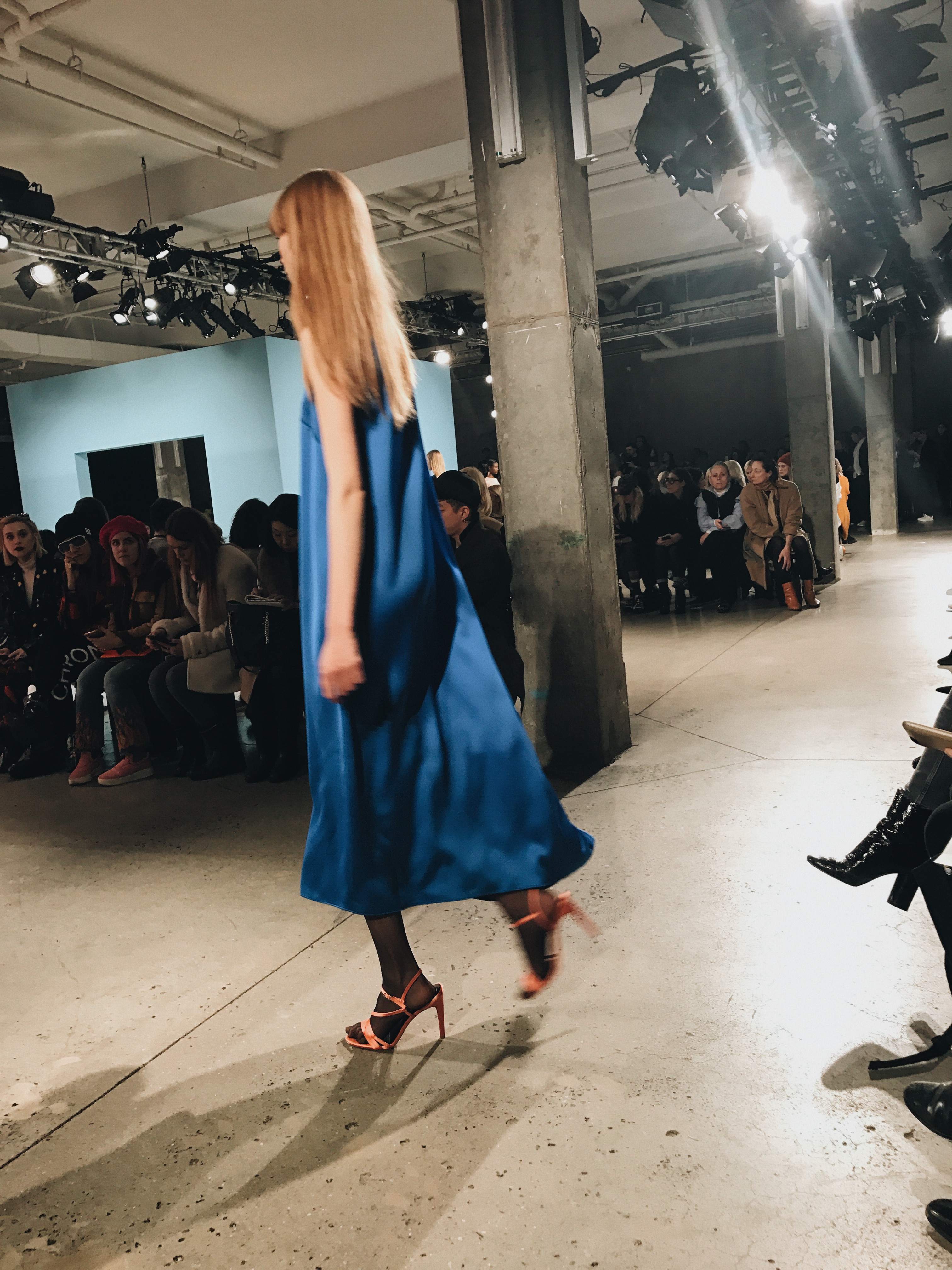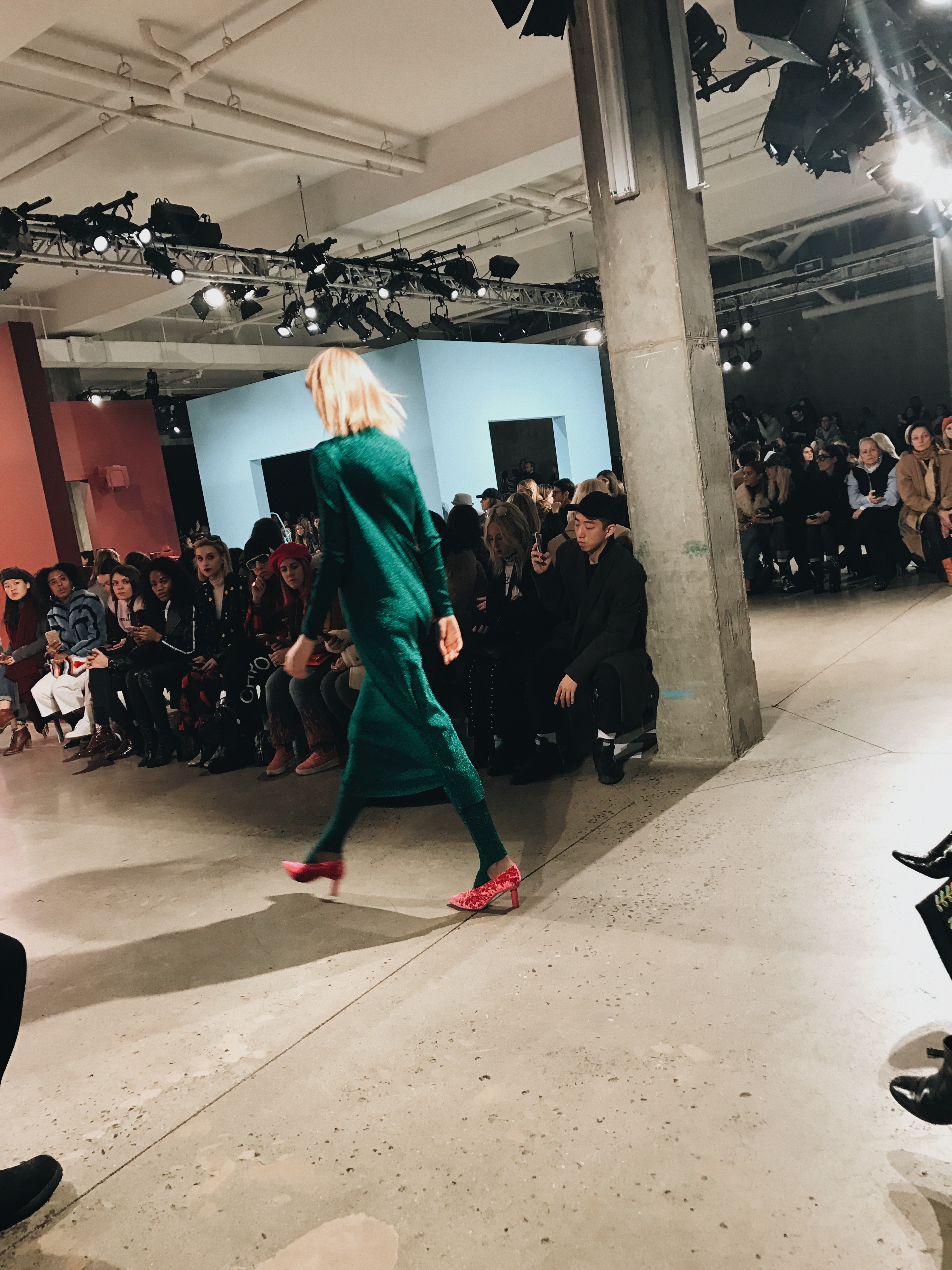 After the Tibi Show, I connected with some new blogger friends like Leckie Roberts from West Village Wasp and they insisted we should head over to the Shop Style Collective for a quick break.
I gladly agreed and we arrived there – sipped on some cocktails, mingled, and took more cute pictures. Below are some images from the Shop Style Collective. I bumped into some of my blogger friends from LA and we chatted about our NYFW plans and what our favorite trends were so far.
After spending a good few hours there, my blogger friends and I headed to a dinner place so we could catch up properly and finally eat for the first time that day!
After dinner, I headed to my hotel and then freshened up because it was time for the Jonathan Simkhai after party! I was nearly dead by this time but I figured I might as well go since its NYFW.
NYFW DAY 3:
So by NYFW Day 3 – I was a bit under the weather and ready to take it a little slow. The highlight of Day 3 was supporting my favorite blogger babes at their events. I went to go mingle with like minded creatives and just support some friends  ( Julia from House of Comil and Leckie Roberts from The West Village Wasp.)
In my opinion , the fashion blogger world has become so saturated and competitive – it is always important to stay grounded and remind myself why I started this journey. Personally, I only started so I can connect with people all around the world and inspire them to follow their dreams – and no matter how successful I get – I never want to stray from that.
Oh and by the way, I wore another two piece set from Saku New York. This time it was a grey tweed set and I was channeling Parisian vibes!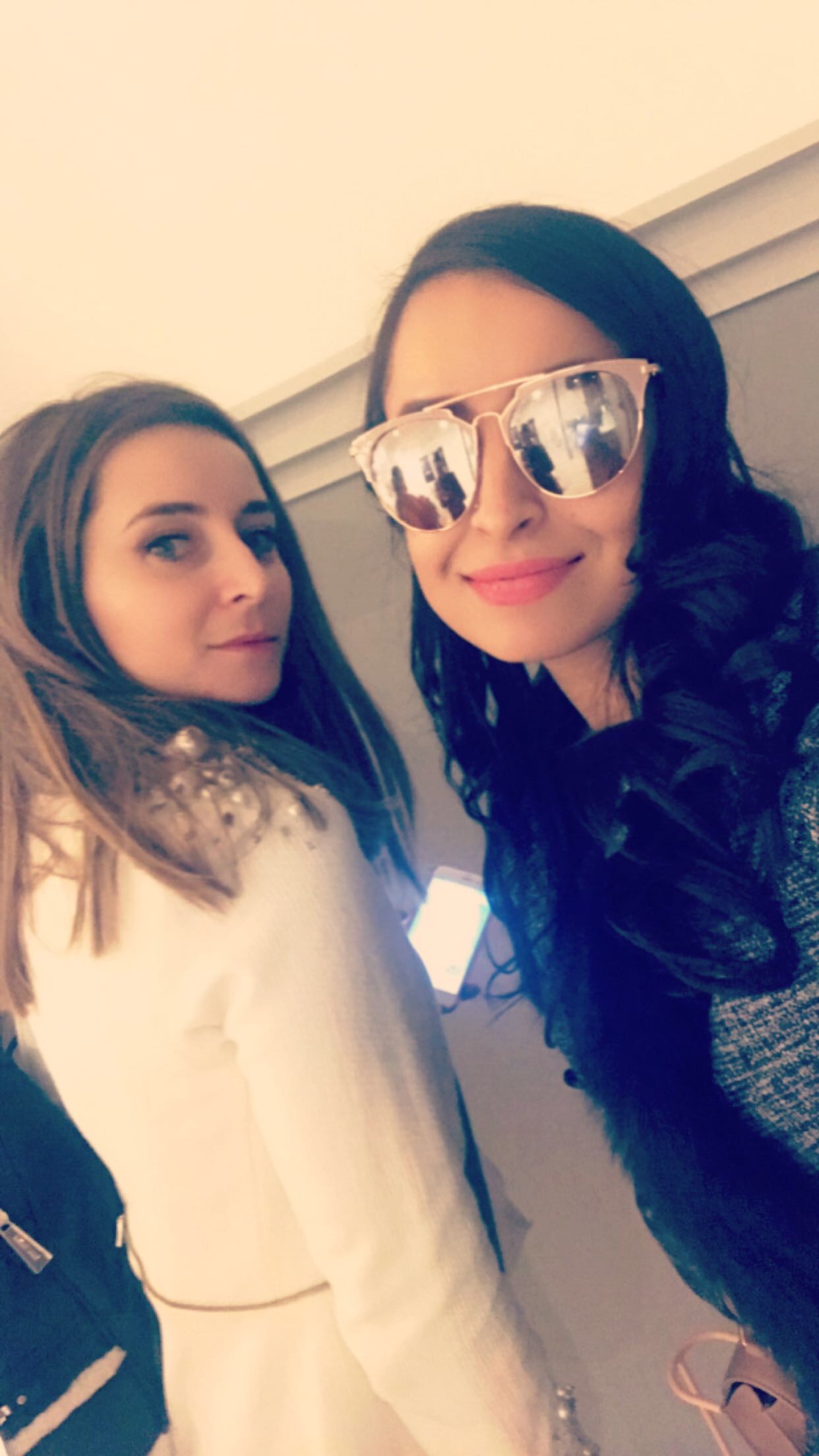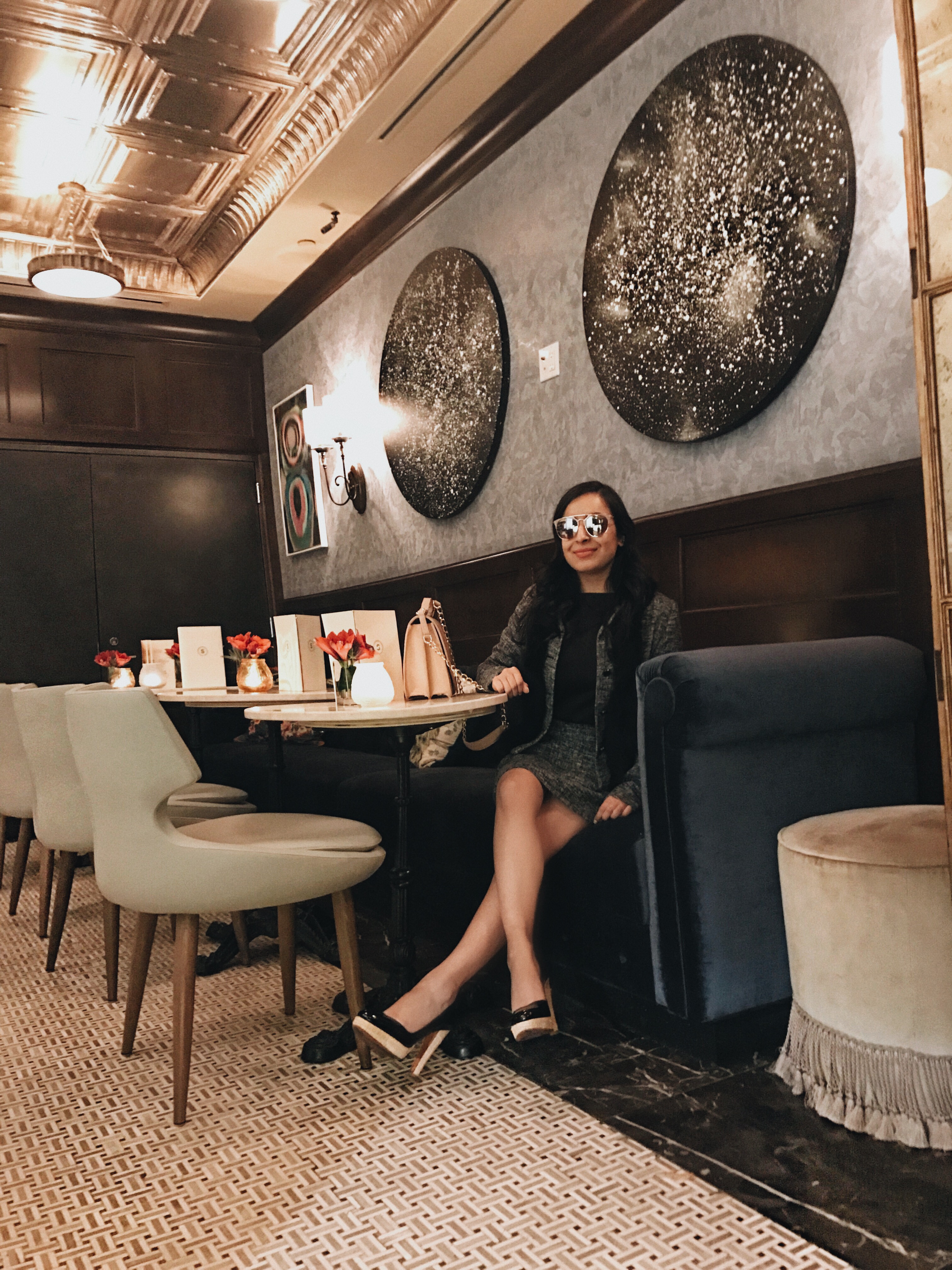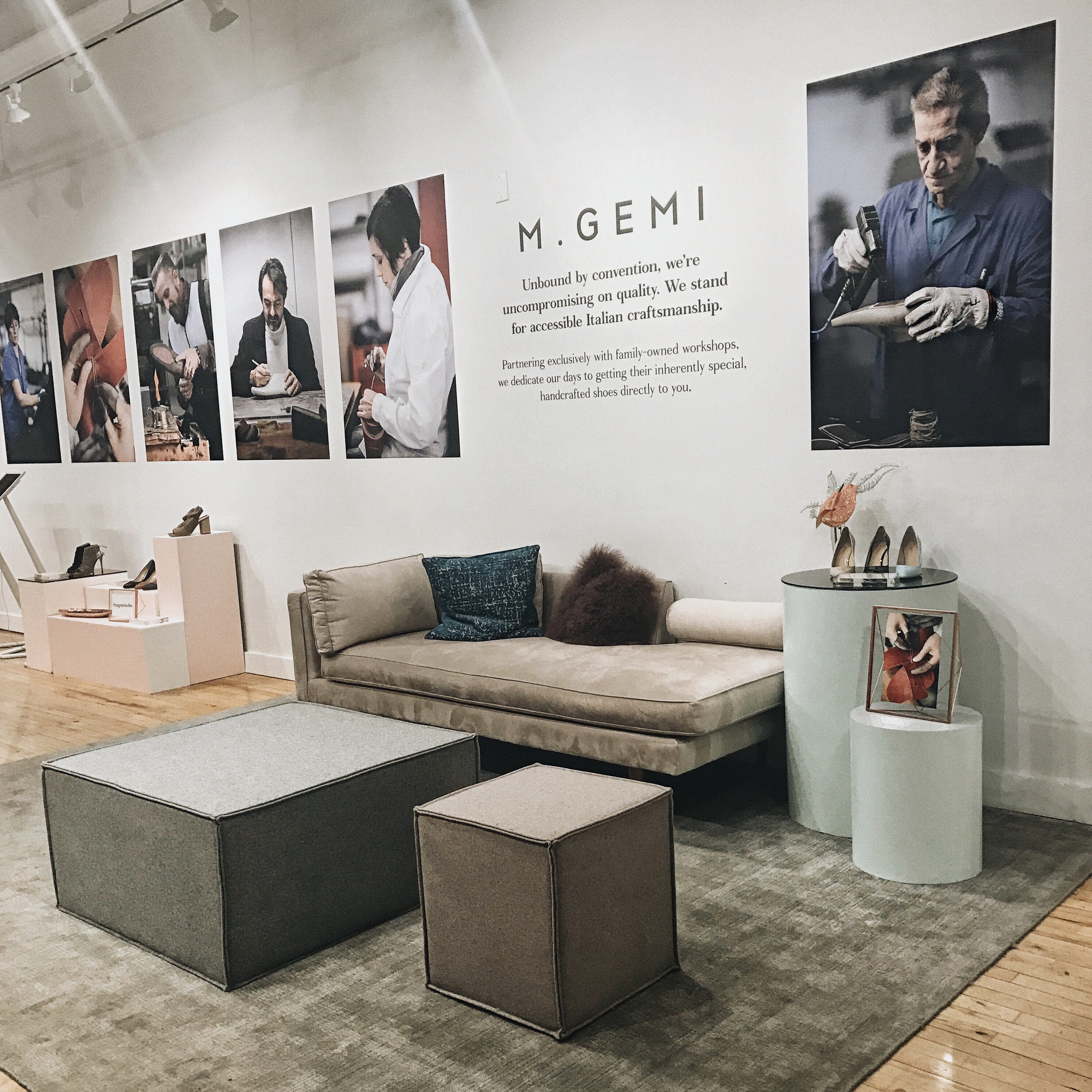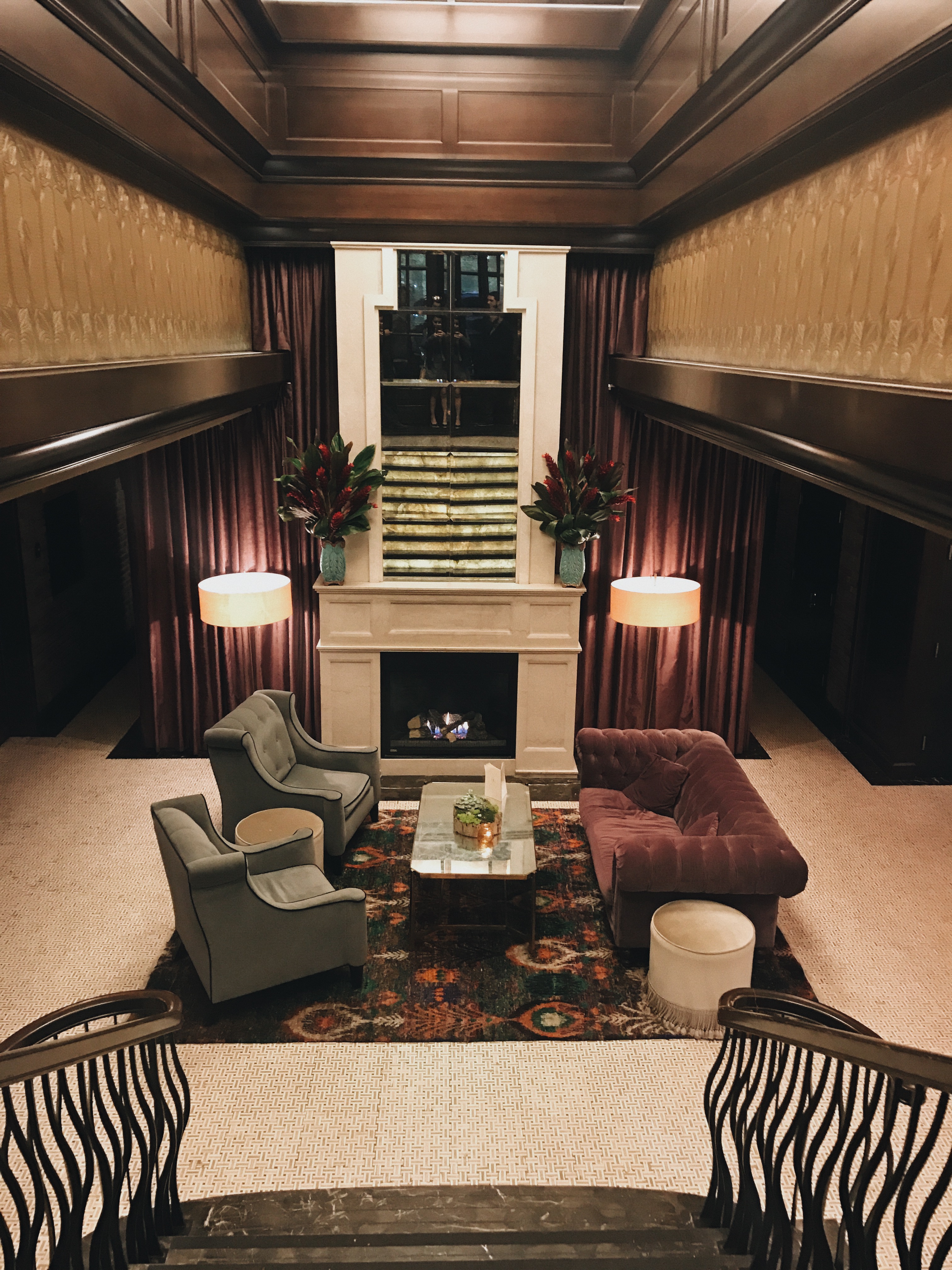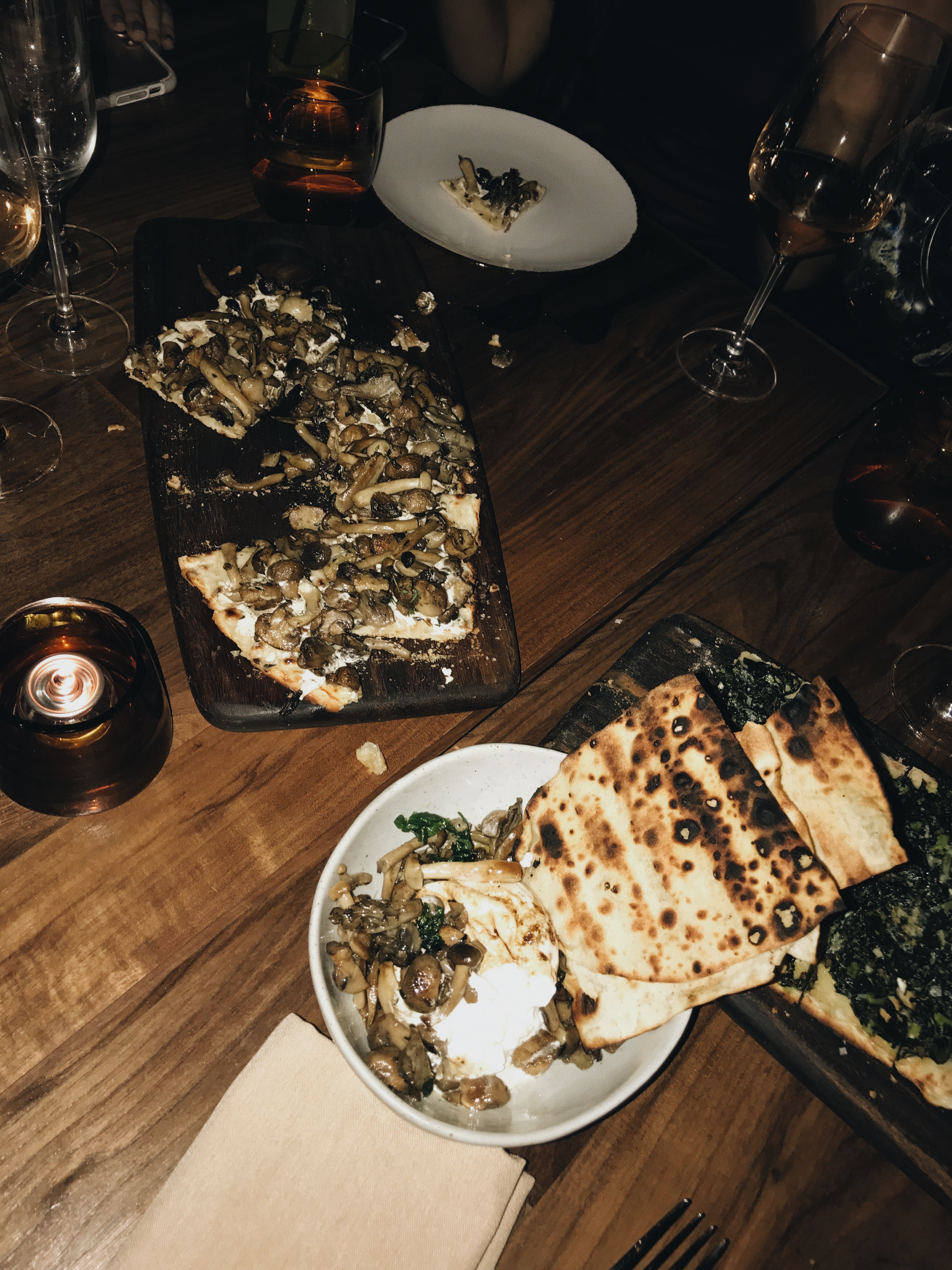 NYFW DAY 4: 
This morning, I woke up and got ready fast!  I was going to attend a few shows and head to appointments. There were many shows on the list this season but I wanted to focus on a select few brands that I resonated with. I first headed to backstage at Veronica Beard with Bobbi Brown . I loved interviewing lead artist Marc and asking him about what the inspiration was behind the looks. I am a huge fan of Bobbi Brown in general because they believe in enhancing one's features with make up but still staying natural.
After the presentation and meeting the amazing Bobbi Brown Team, I left to attend the Mara Hoffman show!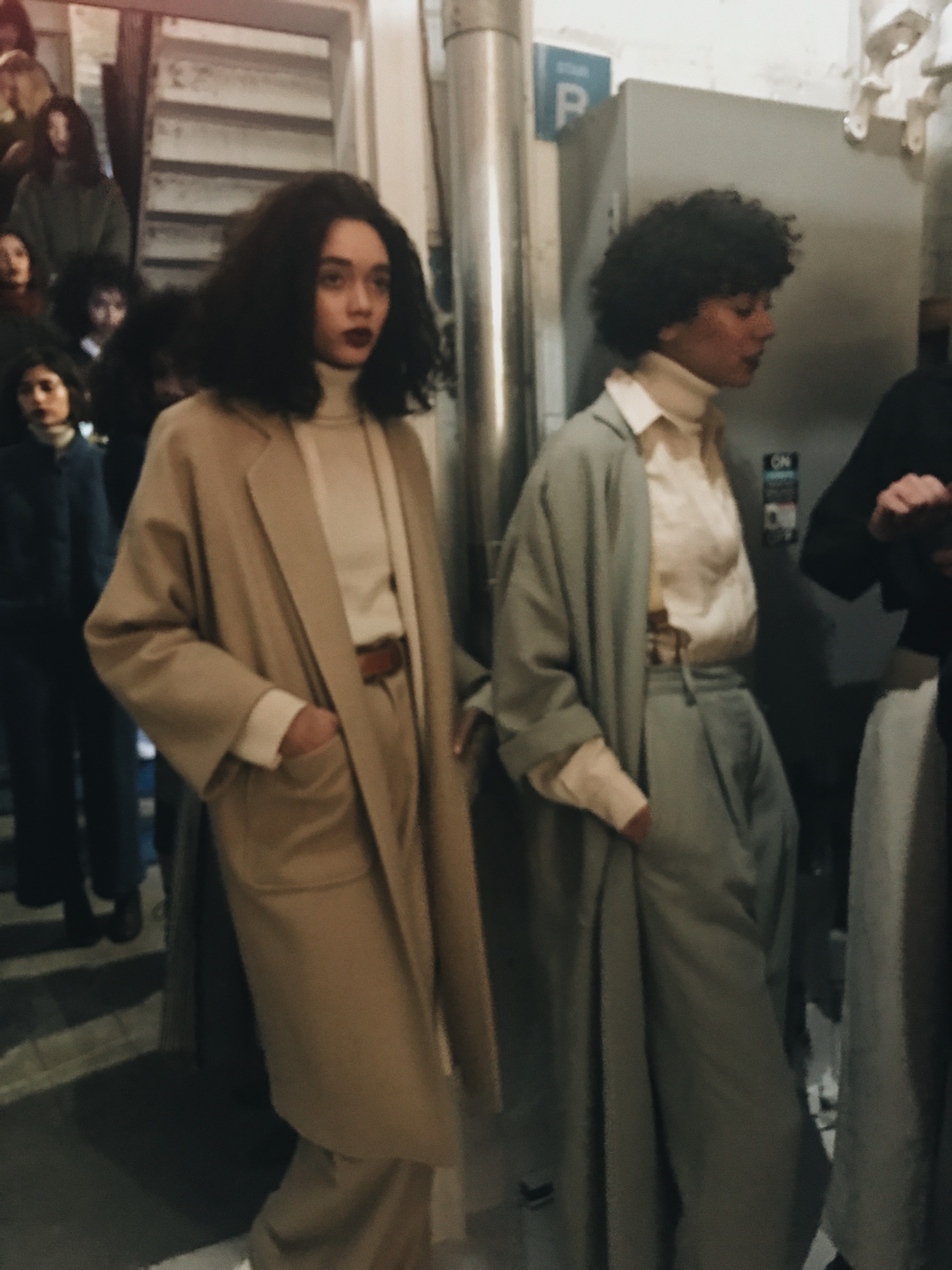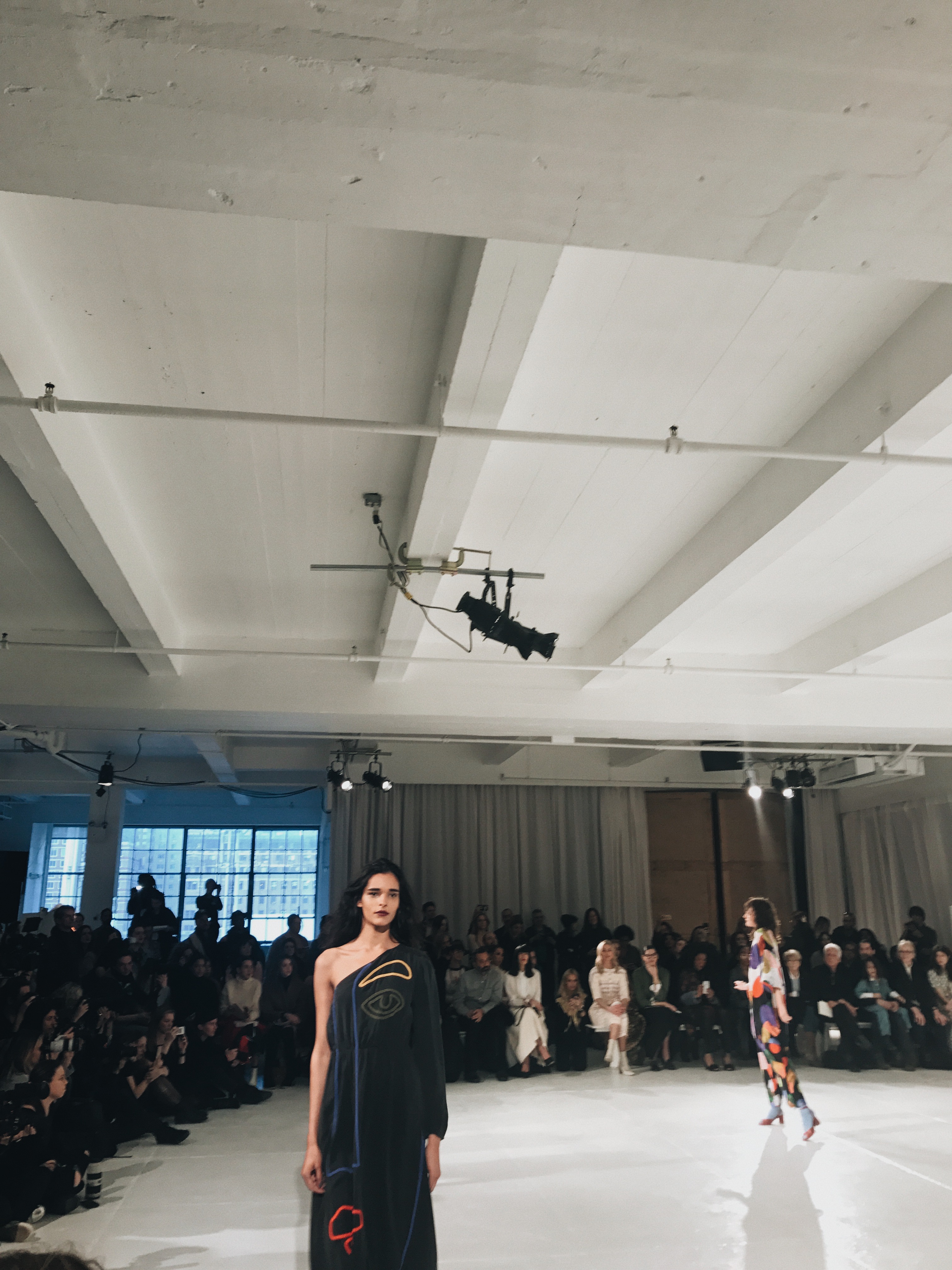 This show was so beautiful! I loved how they incorporated dance moves into the show. It was a such a different and unique concept. The clothing was all so light, airy, and distinct. I am definitely lusting over their new collection and can see myself in more than one of the pieces.
The last show of this night was the absolute highlight of my entire NYFW trip! I went to the Zac Posen presentation where I met Valentina Ferragni and many top people in the fashion industry.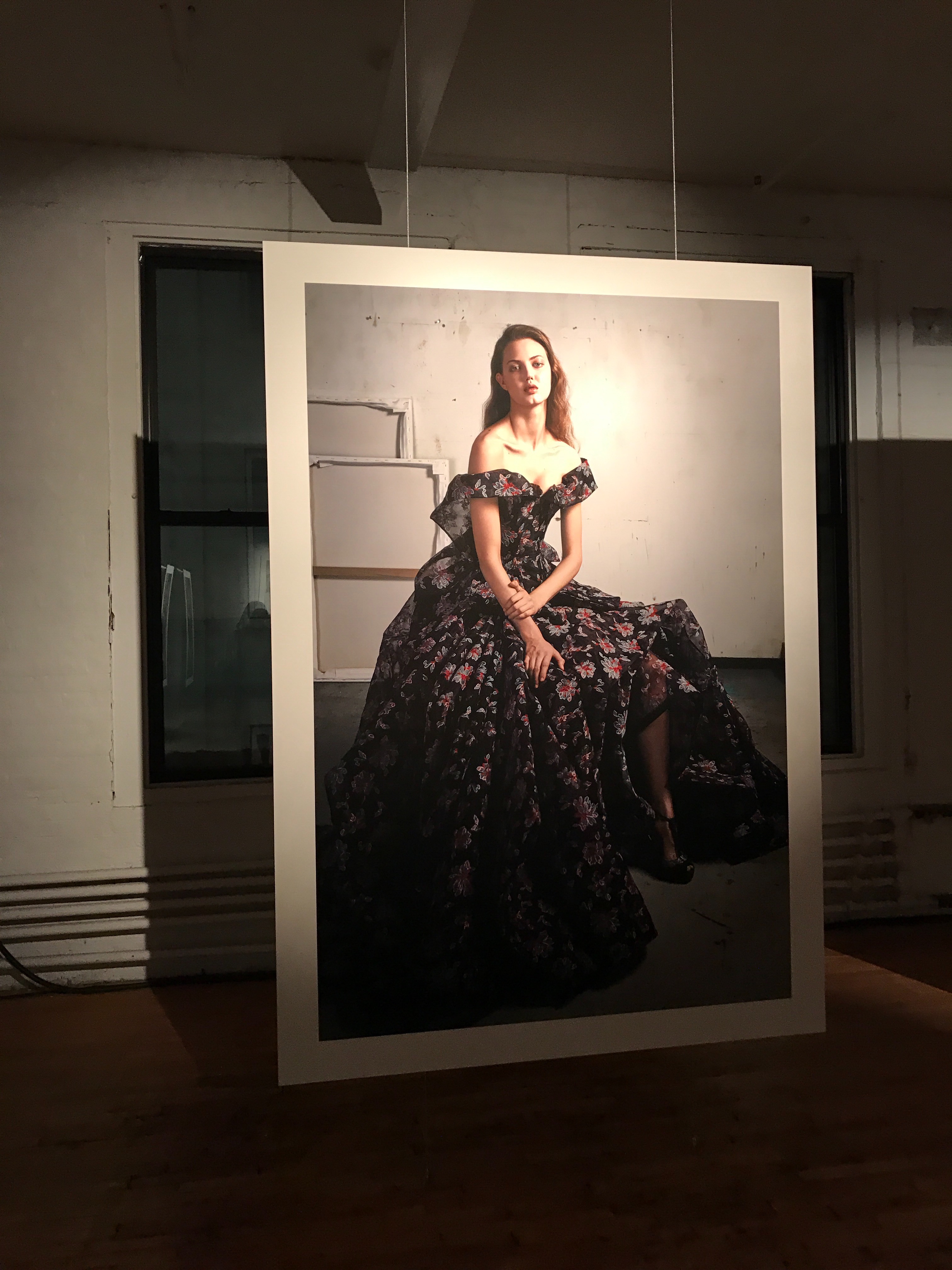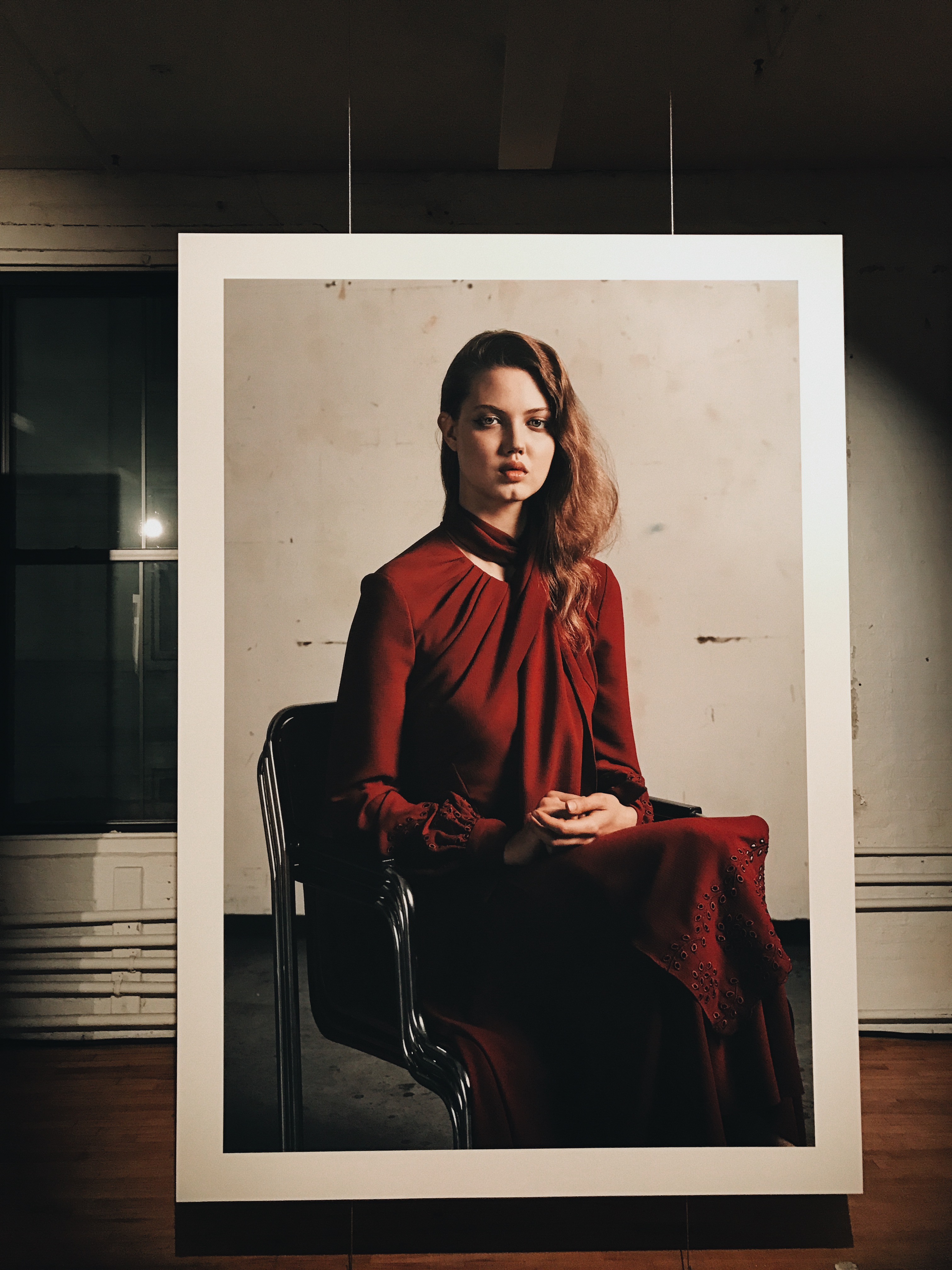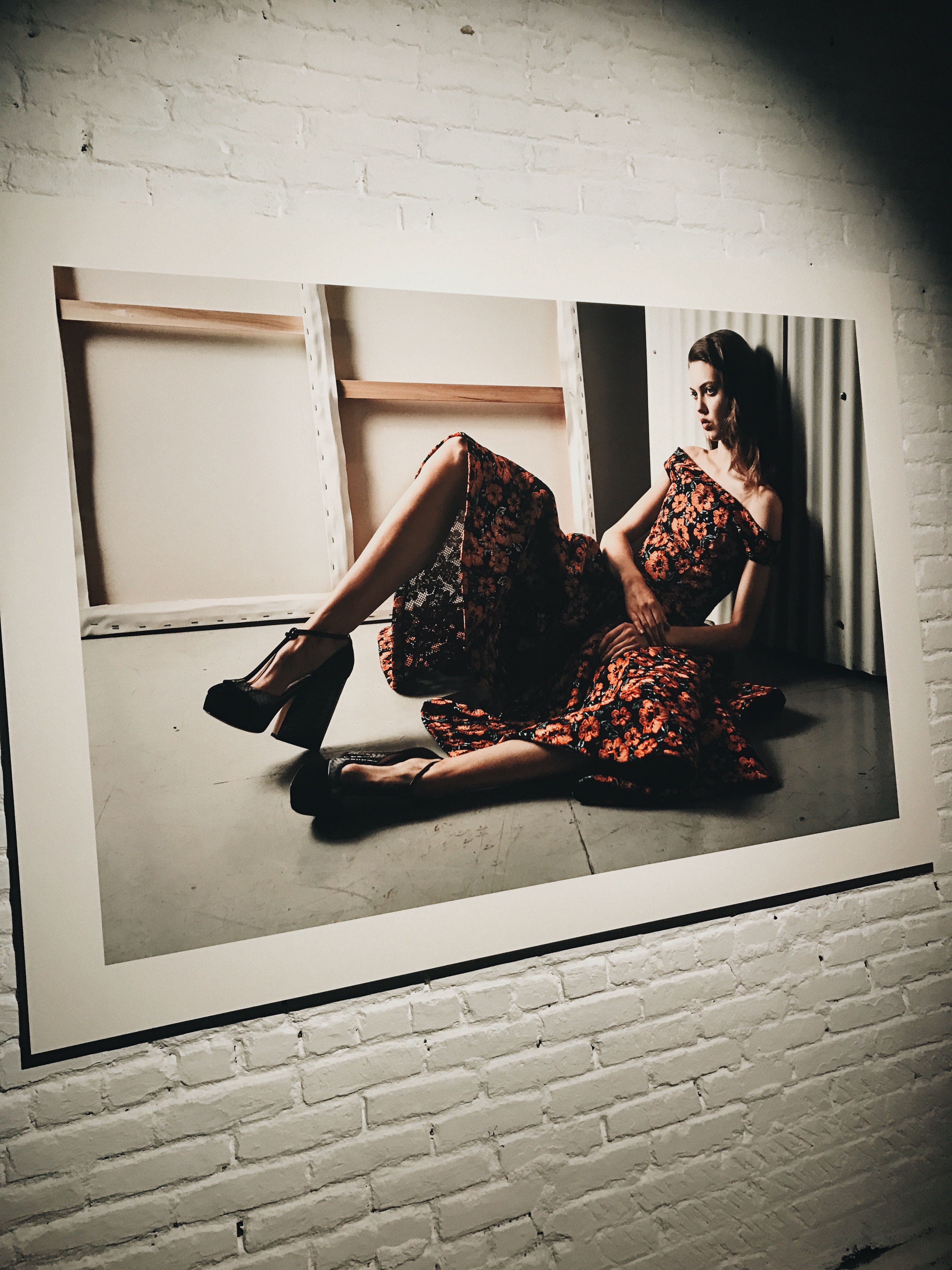 I also stopped by at the Mimi Prober show. It was so refreshing to discover an amazing brand I was not familiar with. The looks were also gorgeous!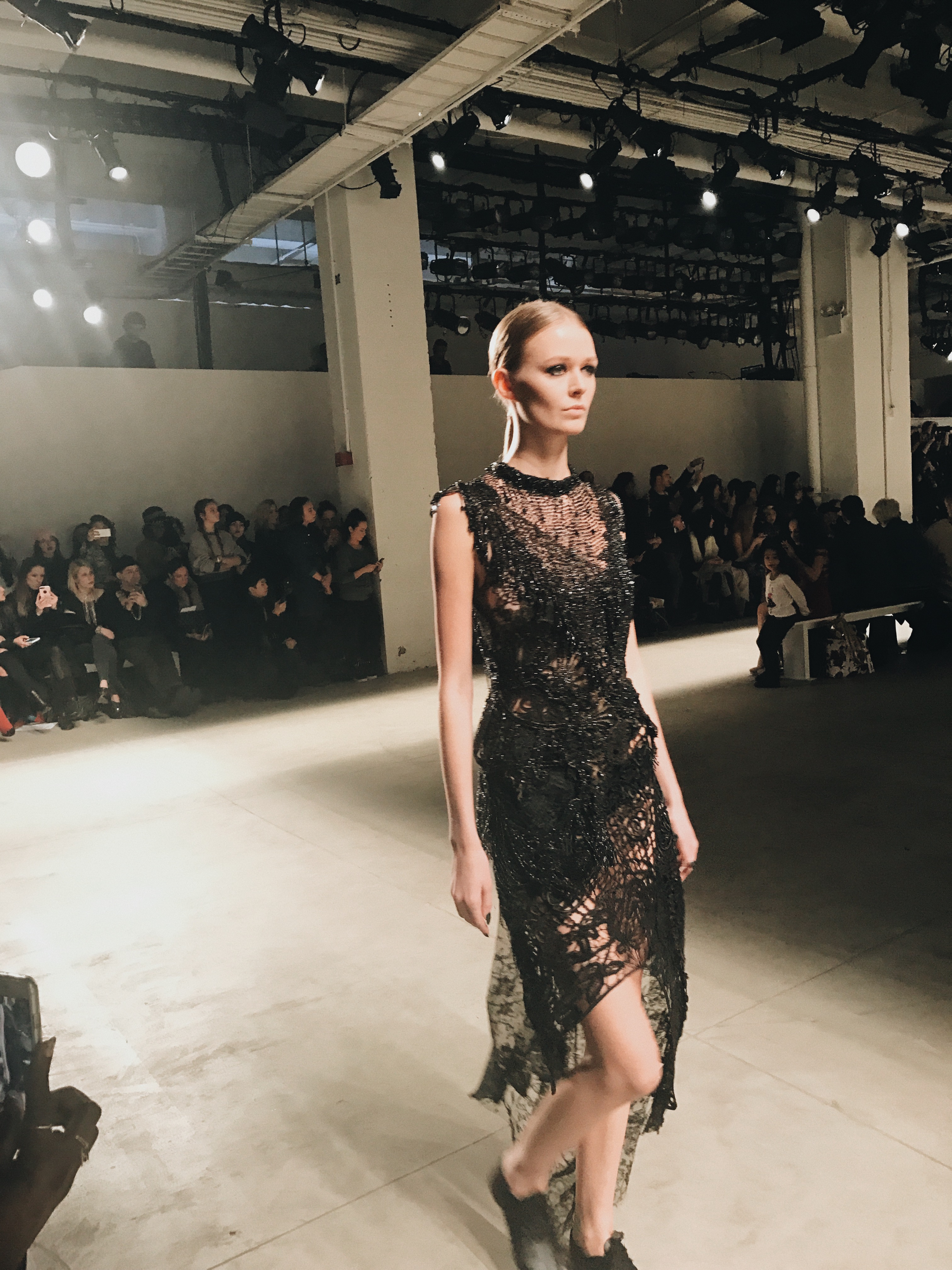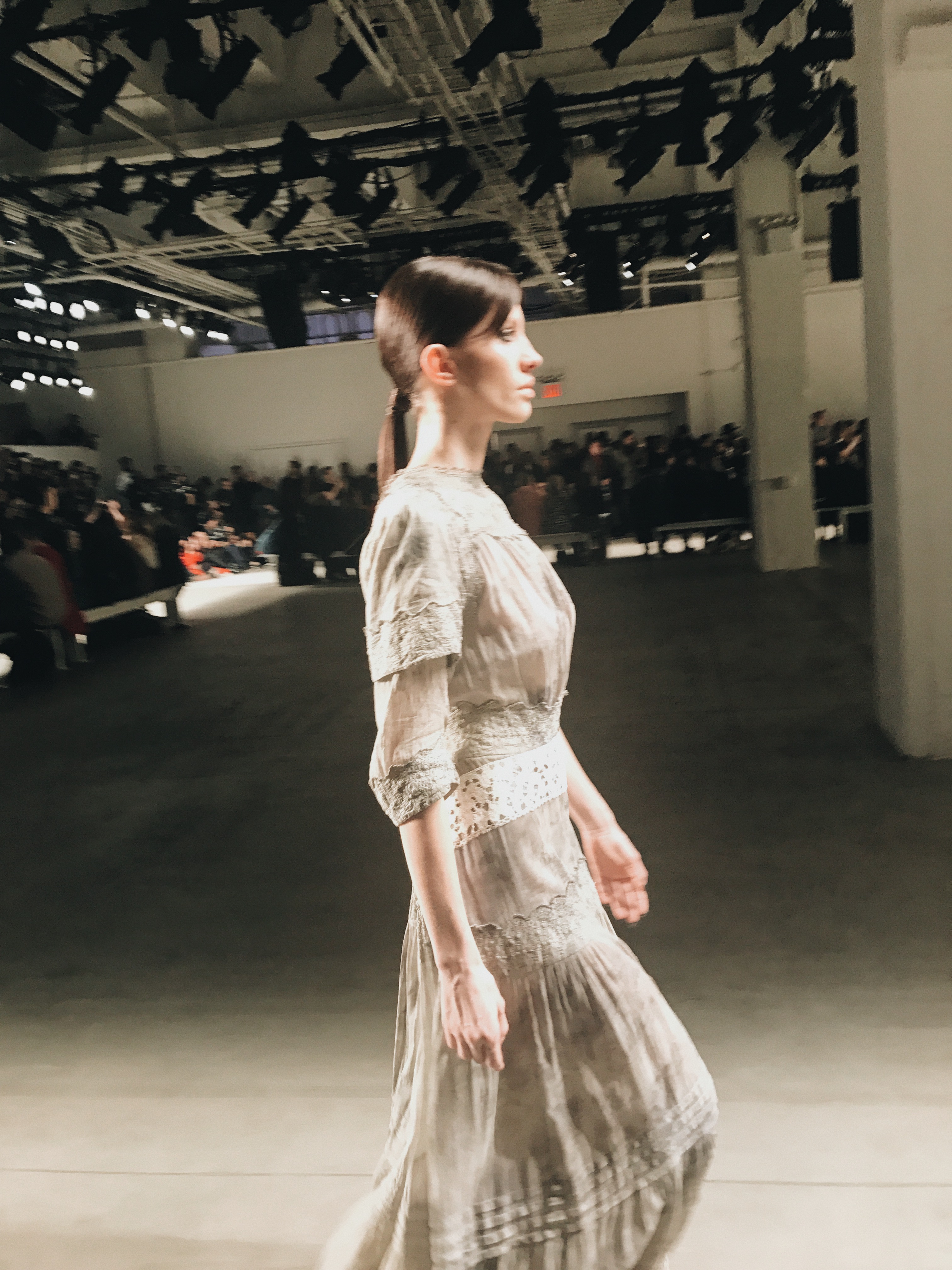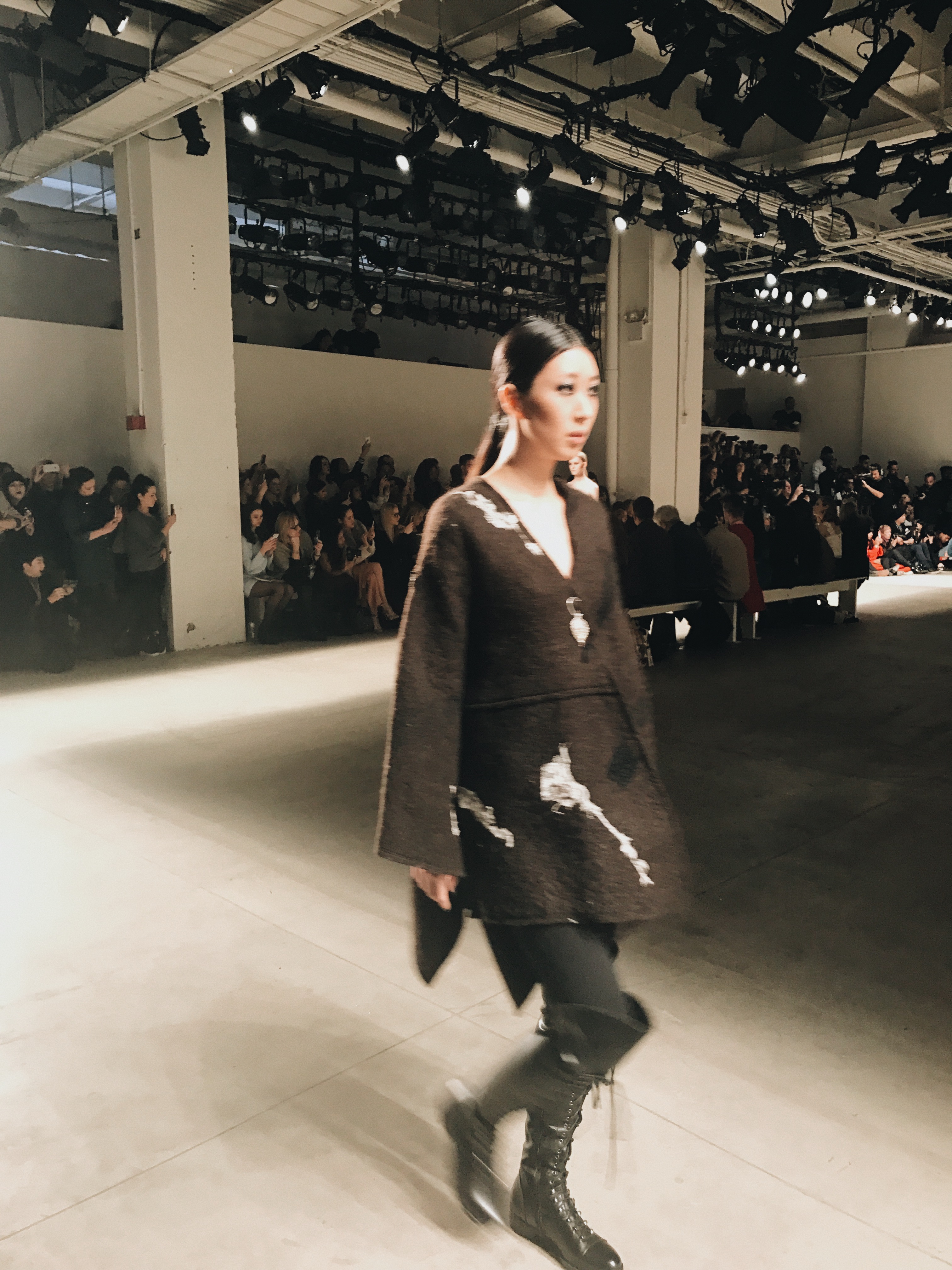 NYFW Day 5: 
I was supposed to make it to the Michael Kors show this morning and cover for a friend but I was literally so exhausted that I could not get out of bed. It probably did not help that I stayed up till 5 am the night before.
So I decided to catch the next show and got ready fast for the Bibhu Mohapatra show.
Today was the day I finally got noticed by the Fashion Week Paparazzi . Everyone was obsessing over my look (which I came up with in five minutes by the way). I was happy to pose for pictures and it always feels great when people ask you questions about what inspired your look.
I was wearing an adorable cropped faux fur coat from Spirithoods, a striped tube dress, Nasty Gal high knee boots, and my blush bag from St. Scott. I threw on my Zac Posen shades and slipped my hair into a low maintenance pony tail since I was late.
Its ironic that when we put in the least effort, we get noticed and appreciated!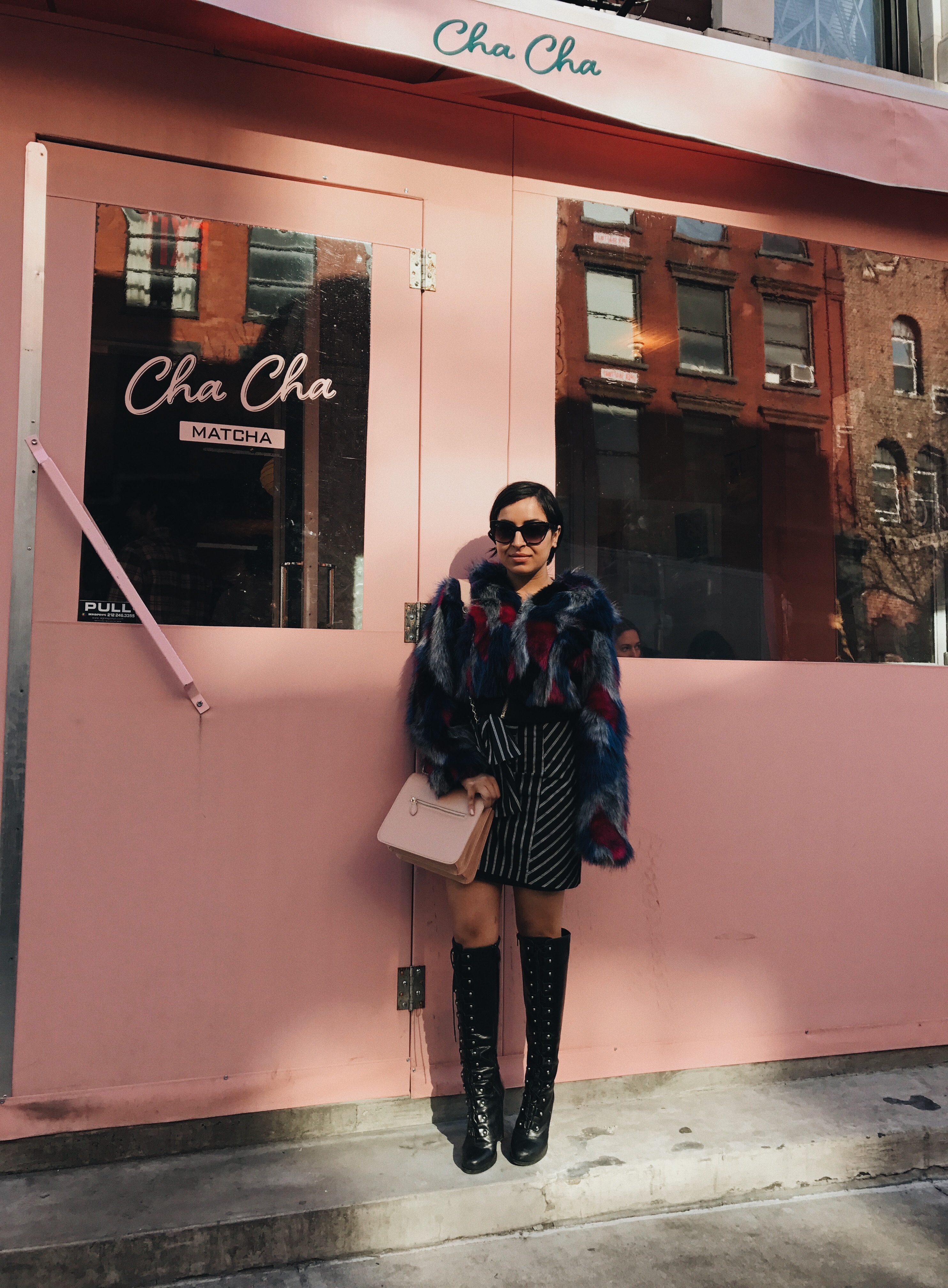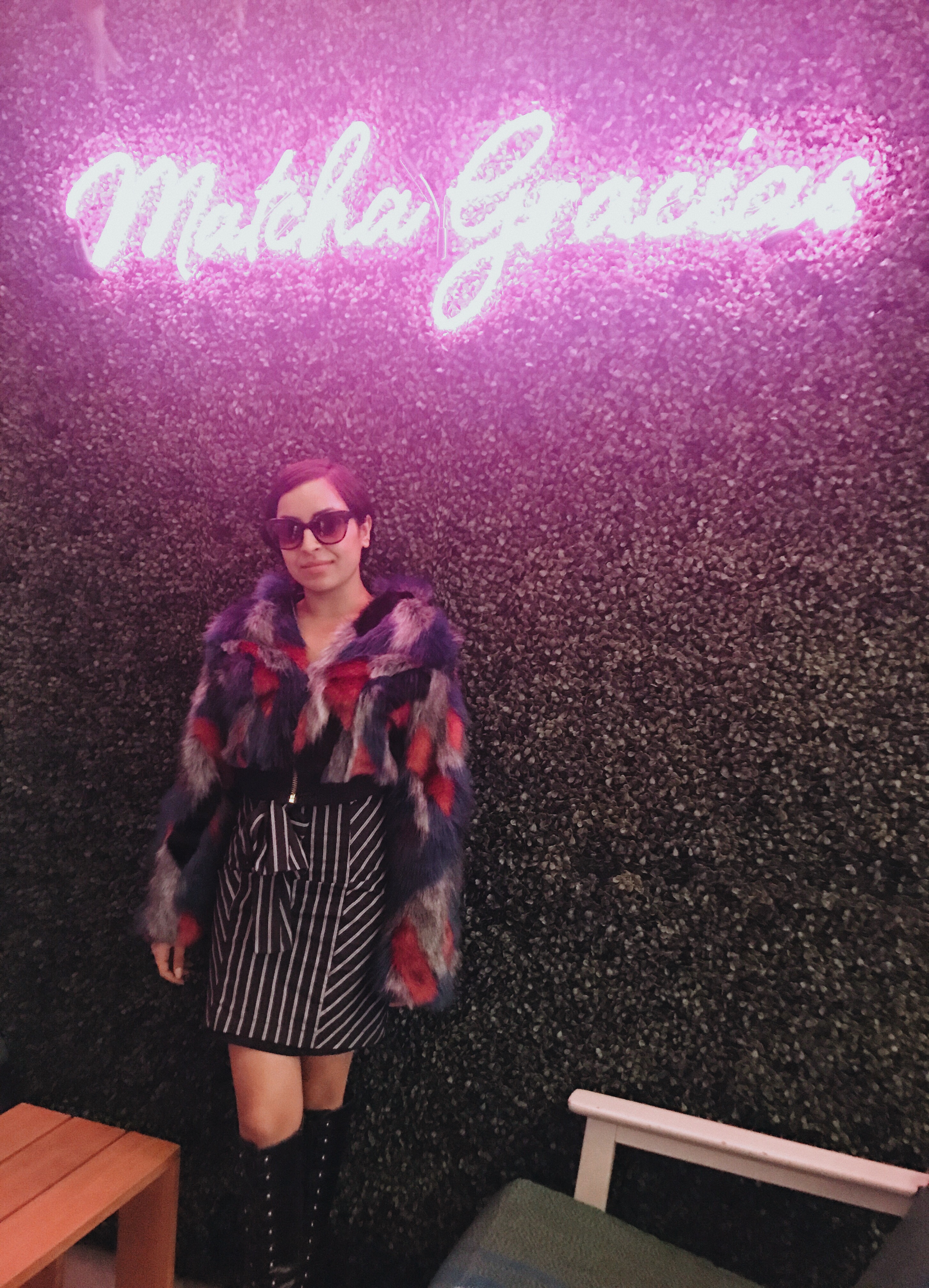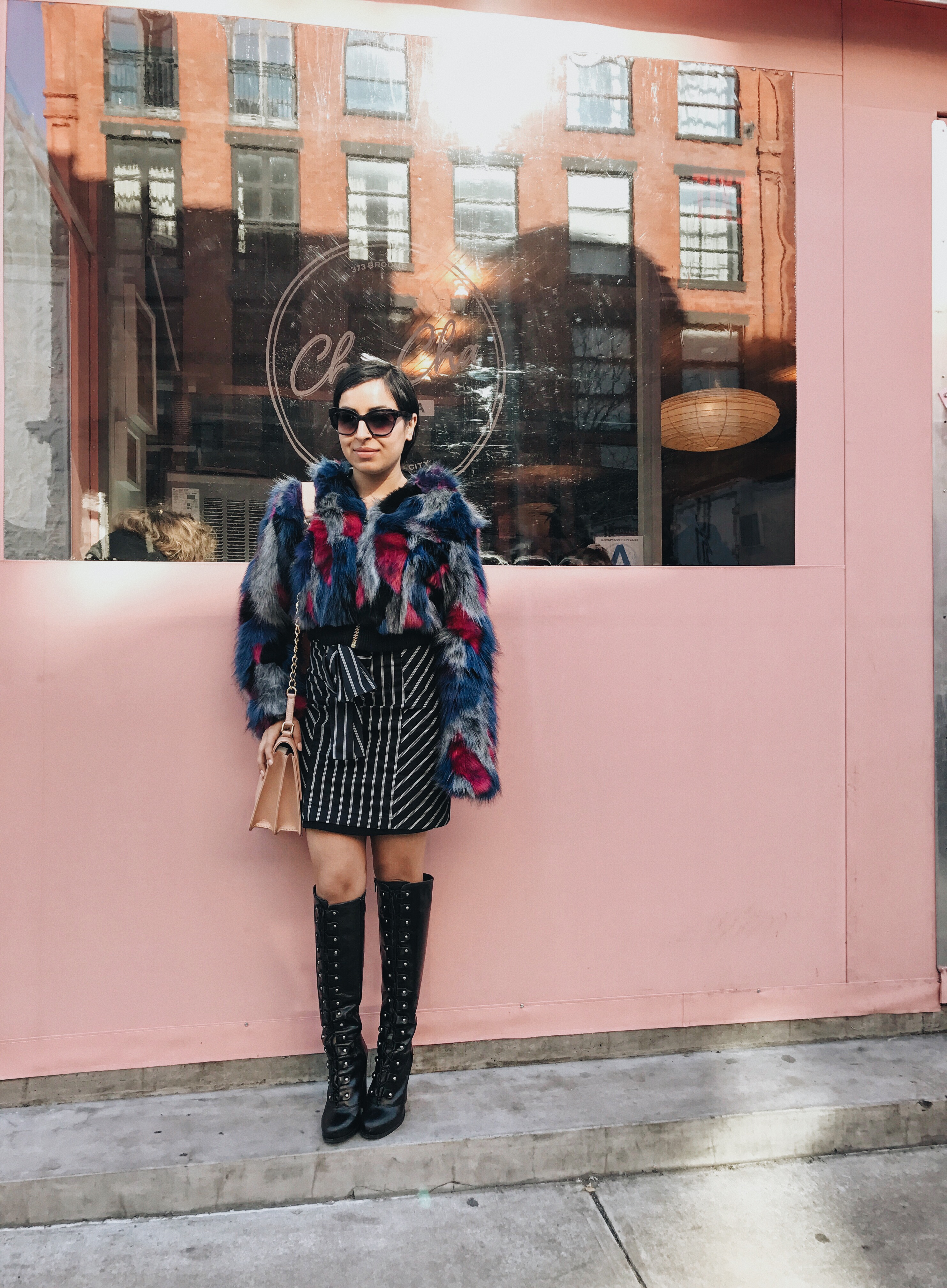 NYFW Day 6: 
By asking around and doing some heavy research, I was able to find out about the exact details of the Marc Jacobs show. My friend and I had some connections to a friend who was going, so we figured we would show up and see what happens.
To our surprise, we spotted Katy Perry outside. This was another major highlight of NYFW. She is such a star and looked gorgeous in cameo.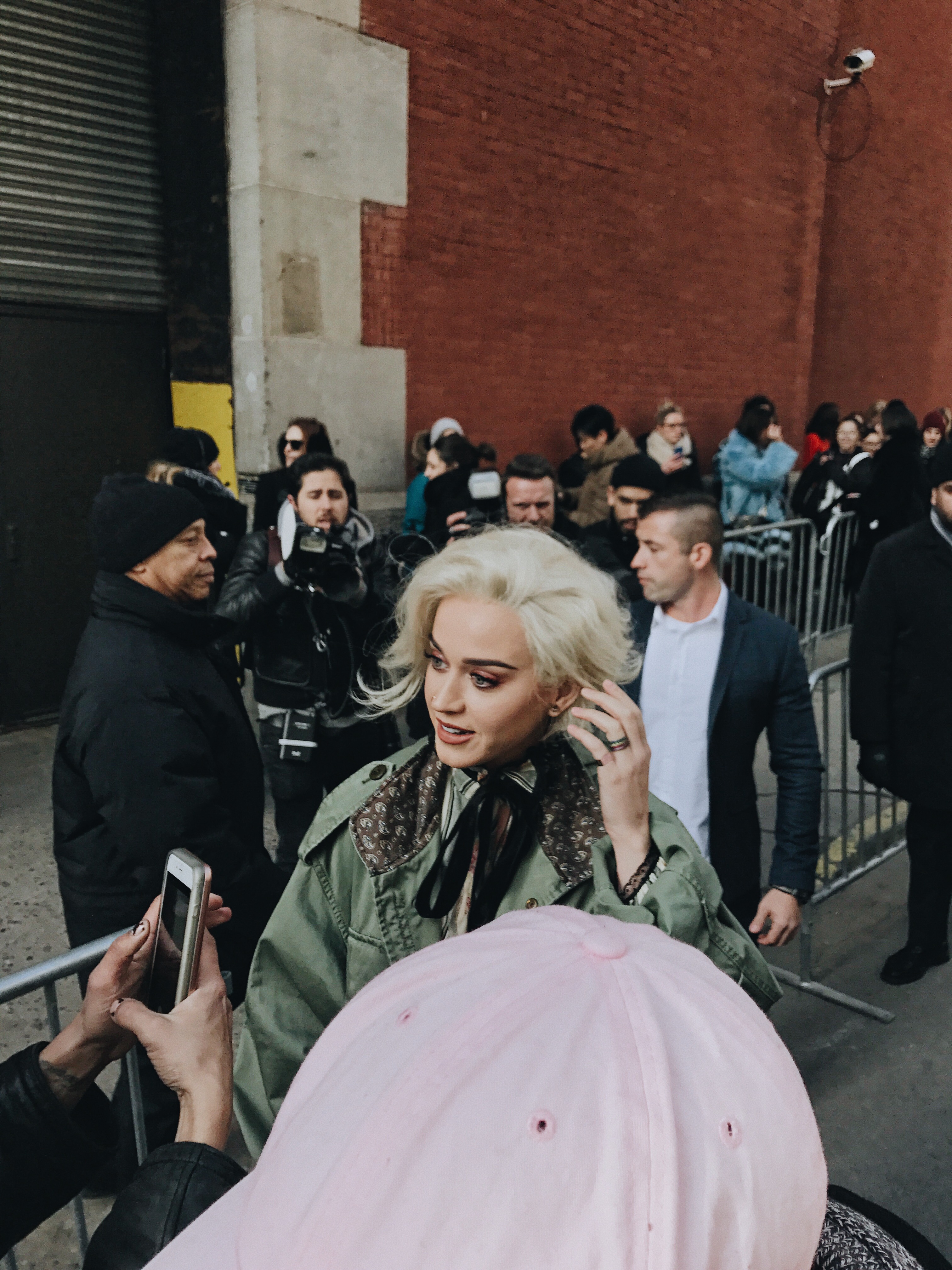 AND…this ends my NYFW adventures. I am sure I left out some events, but I just wanted to cover the highlights for you. Head to my instagram @saffrononrose if you want to see more.
Fashion week was such blessing to attend! I am thankful for all the opportunities. I was almost going to skip this time around but I am so glad I attended. I am also so excited for the next one and looking forward to bigger and better things :) !
I hope you enjoyed my recap and please feel free to message me if you have any questions on NYFW. I love hearing from you , and always want to help in anyway I can. Also, I totally appreciate it if you made it up to here – because I know this post was way too long and detailed! Love you all.
Best,
Alisha