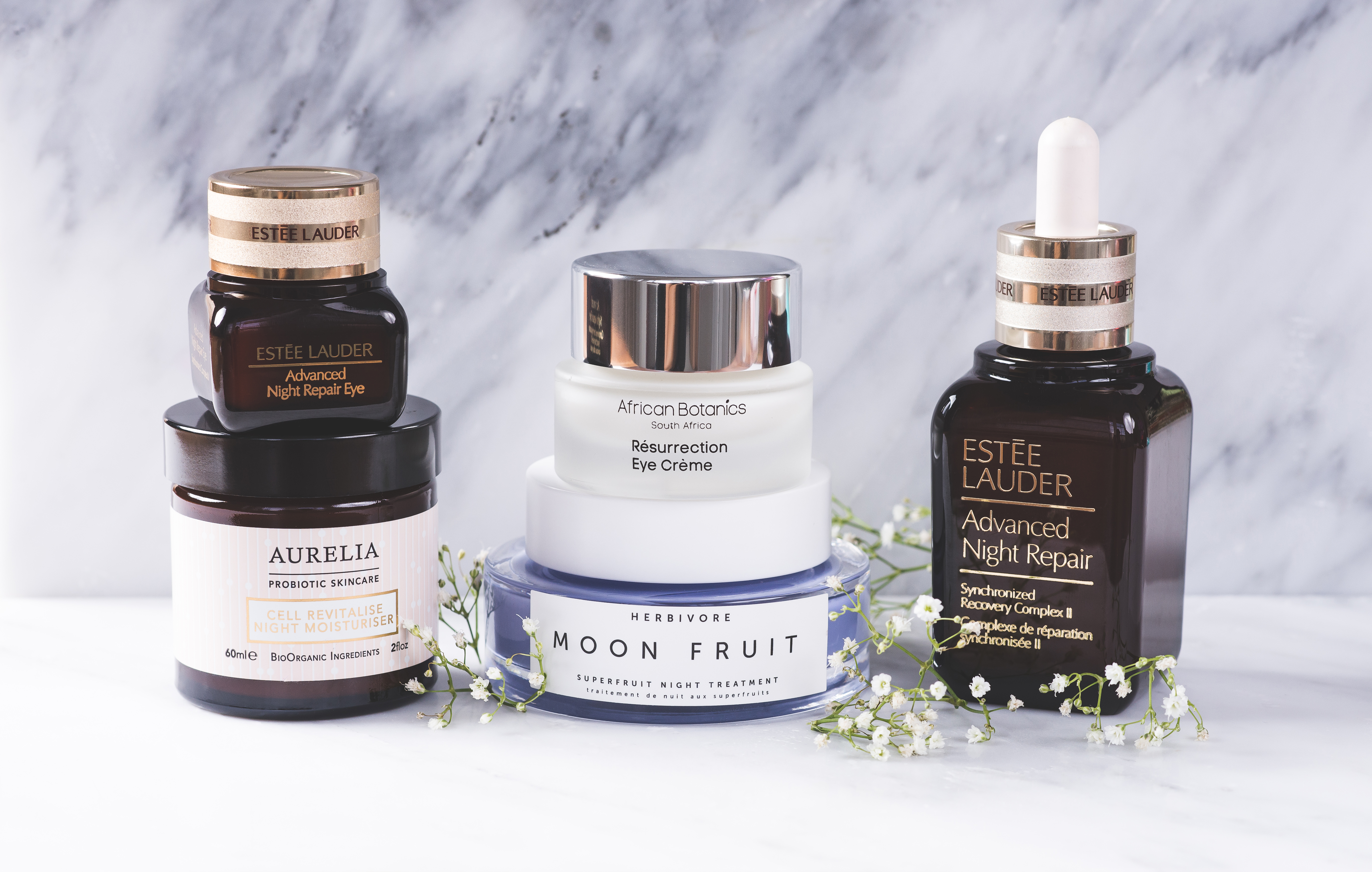 Hi Babes –
Today is a much awaited night time skincare post that I always receive questions on. Lately I have been going crazy on insta story / snapchat and showing you all my obsession with the BEST in skincare. I am loving the feedback from all of you so I was encouraged to write this post and get into the details!!!!
As you know, I am extremely selective with the products I use, and I always want to promote something after I have used it and have begun to love it.
I take serious pride in sharing only the BEST products with my readers and only sharing my honest opinion. This post is also not sponsored, even though I have definitely received numerous skincare products graciously as gifts from brands I adore already.
PS. Working out, drinking tons of water, and eating healthy helps you achieve the best skin possible and cannot make up for just using amazing products.
Keep reading to find out my night time favorites! <3
Estee Lauder Advanced Night Repair & Advanced Repair Eye Cream – This is seriously a God Sent formula. This is the new and advanced night repair formula from Estee Lauder. (I have been using this brand for years and can testify its greatness!) Its seriously magical because it targets the eye area and makes you appear more rested. It renews your skin and provides you with that luminous glow you are craving for. It combats the signs of aging we all hate.  And the good news is , that its also ideal for all skin types.  You can use this product before applying your moisturizer. Be generous and use several drops. Then you can smooth it all around your face and throat.
African Botanics Eye Resurrection Cream – This product has been developed in South Africa (woo! I have been there hehe).  It is made of all natural botanicals, exotic oils, and active plant ingredients. It is an anti aging eye cream that produces results. You can expect cell renewal, hydration, and tightening of wrinkles. Some of the key ingredients are Marula Oil, Baobab, Green Rooibos Tea, Peptides, and Resurrection Plant. These powerful ingredients help to reduce puffiness, dark circles, and wrinkles.  Some benefits of this eye cream are that it stimulates healthy collagen in the skin, tones, tightens and promotes radiance. To use this product, apply it during the morning or night, and gently pat it under the eye, and along the orbital bone in a pressing motion.
Herbivore Botanicals Moon Fruit Super Fruit Night Treatment – I love how this product is PURPLE! Can we talk about how cool that is? Anyways, it also has numerous benefits that I just cannot ignore! This is a night treatment that feeds the skin with much needed super fruits, fruit enzymes, and it also hydrates with exotic fruit butters / bio – identical vegan Hyaluronic Acid all while you sleep. I love how this product is all natural and that all ingredients are organic / plant based. I make a strong effort to use truly natural products on my skin.  Some of the key ingredients of this treatment include Kokum and Shea Butter which hydrate the skin and lock moisture into your skin. It also has Fruit Enzymes and AHA's (Sugar Cane, Orange, Bilberry, Cranberry) which aid in regenerating the skin and creating that perfect glow. This product also has Aloe Juice which soothes and calms the skin. It helps to improve those horrible blemishes too!  Lastly, the Hyaluronic Acid is bio-identical and vegan. It helps with hydration and improves the elasticity of the skin. To use this product simply, use your cleanser, mist, mask, and then put on the moon fruit and finish with facial oil. Also note that this product must be massaged into the skin to work its magic.
Aurelia Cell Revitalize Night Moisturizer – This product is formulated to nourish and uses probiotics to hydrate and sooth the skin. It promotes a gorgeous , luminous and dewy radiant glow hat can prevent skin aging. Some of the key ingredients used in this product include Baobab which is filled with Omega 3 and helps to revitalize the skin. It also has Kigelia Africana and Hibiscus which fights oxidative stress. Borage oil is another key ingredient which is a great source of essential fatty acids like GLA. This aids in locking in moisture.  This product also has Neroli, Lavender, Rose, facial oils to hydrate the skin and bring that luminous complexion. After using your cleanser and serum, apply this cream on the face, neck,  and decolletage. Be sure to also massage this product so that you achieve that amazing glow!
Alright babes, if you made it up to here, I truly appreciate you! I know this was a long post but I really hope this helps you in making decisions on which skincare to invest in. Skincare is truly important and I always like to do thorough research before trying any product. I would love to know what you think of this post and which products you will be trying. As always feel free to send me a message and ask any questions or provide feedback.  I love hearing from you guys!!!
XOXO,
Alisha