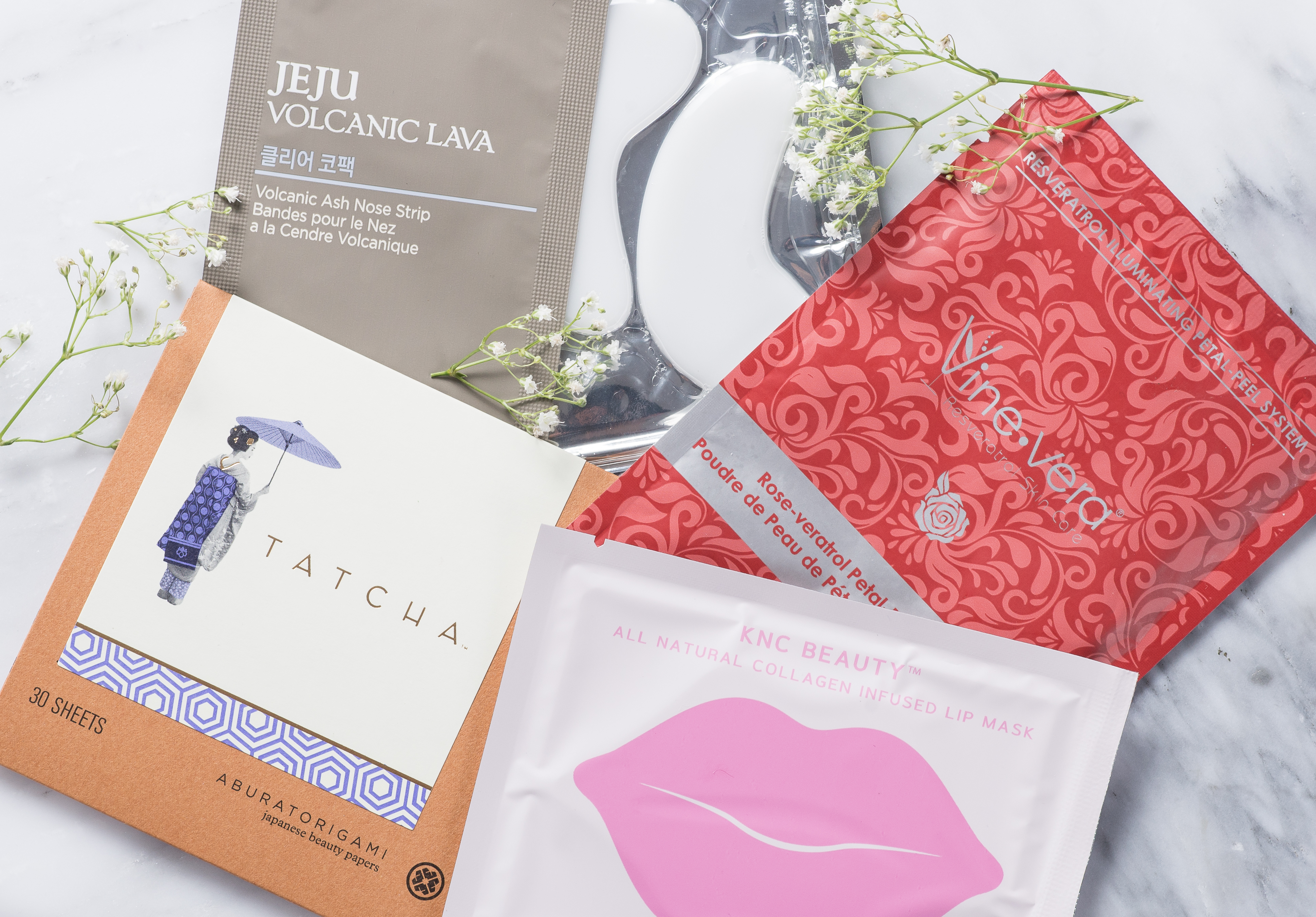 Hi Lovelies !
Before you read this, I just want to let you know that all my skincare products are on rotation. I am constantly trying to discover the best products out there and often change up my routine. However, the face masks and products I am telling you about in this post, are definitely my current go to's!
Okay lets get this started ;)
KNC Beauty All Natural Lip Mask –So I bought this product from Urban Outfitters because of all the hype. I saw celebrities raging over it, and found it ALL over instagram. I was so impressed by the results. It left my lips feeling so soft and filled with moisture. My lips are usually very chapped and I am always trying to look for a remedy on how to fix that, so I would say to give this product a go! This lip mask is made out rose flower oil, cherry extract, and vitamin E. This will definitely hydrate the lips and plump them. I love how its all natural too. Thats an added bonus ;).  You can keep it on for up to 20 minutes and you can use it up to 3 times a week. You can shop it here, or try out these alternative one, that I love here.
JEJU Volcanic Lava – I bought these nose strips at Urban Outfitters as well. (Someone is addicted to that store, haha.) Okay so, these are amazing. I think there is nothing more fulfilling than peeling off one of these nose strips and seeing yourself get rid of those horrible blackheads. Perfection babes, perfection!  These babies really work and you will love how smooth and clear your nose feels after, no joke.This is a South Korean skin care brand and actually contains real volcanic lava. Seriously how cool is that?! You can buy them HERE.
Tatcha Aburatorigami Japanese Beauty Papers– Tatcha is a skincare brand I have been using for a few years now, but this product was introduced to me recently. These beauty papers are a package of soft, absorbent leaflets and are made of 100 percent natural abaca leaf and gold flake. They work to absorb excess oil without ruining your makeup and give you a fresh look. I would recommend to keep these with you while traveling and on the go. Its a must have! These are made in Japan and are a tradition used by the Geishas. They are also 100 percent natural and cruelty free. You can shop them here, 
Zinfandel Illuminating Petal-Peel System – So the red little package in the image above is actually part of the Vine Vera Zinfandel Illuminating Petal Peel System. I have used this brand for years. You can actually read more in depth about the brand and all its products on my past blog editorials here and here. This product itself is amazing though and brings out a natural glow to your skin. Its also made of roses and smells especially good. Some key ingredients include collagen, rose bud powder, and Diatomite. You can buy the set here. If you want more options, check out this brand here.
Lonvitalite Eye Mask – These eye masks have been so awesome so far. They are actually from a brand in Australia. They have a variety of eye masks that even have gold in them. So cool! Yes, they actually work ;). The one shown in the image above is the C8 Collagen Eye Mask and it is known for eliminating those dark circles/ lines we all despise so deeply. It has collagen, Vitamin C, and hylaluronic acid which are all such great ingredients. You can check out the brand here,  or shop some of my other favorite eye masks HERE.
Alright babes – this is it for now! I hope I did not overwhelm you too much. I also hope you enjoyed this little post on miscellaneous skin care masks I have been loving lately. Comment below and let me know if you want me to start making skincare videos!
XOXO,
Alisha