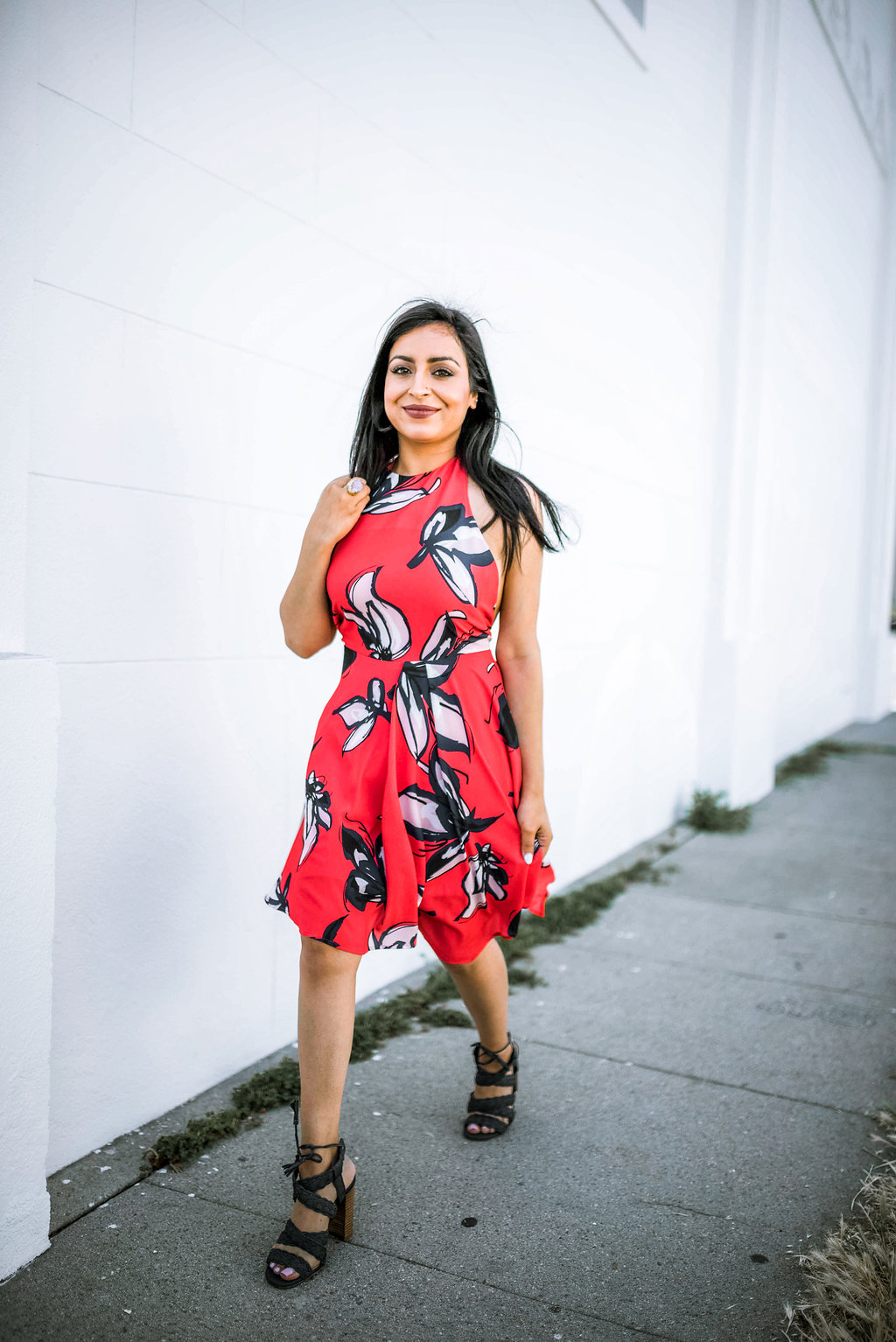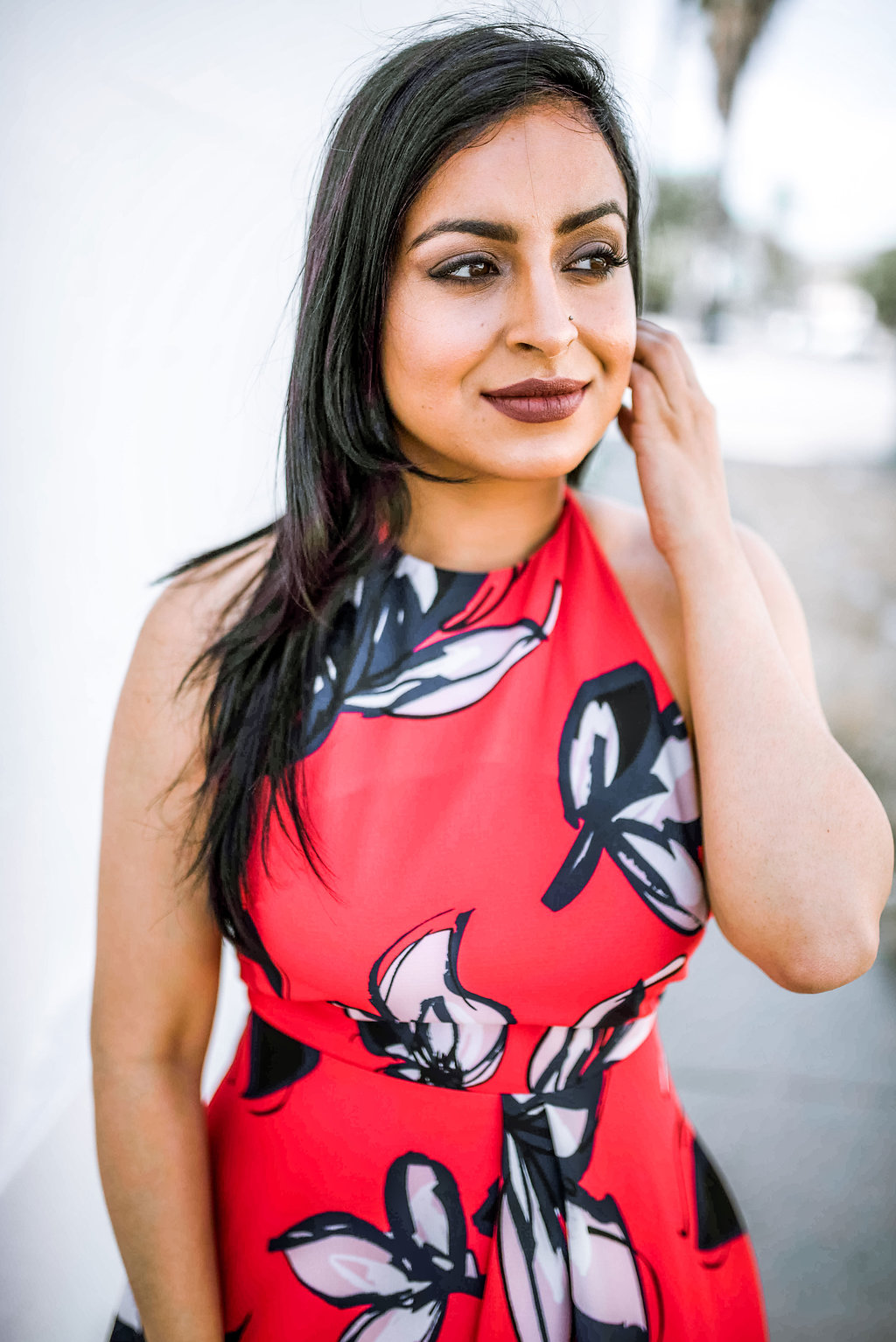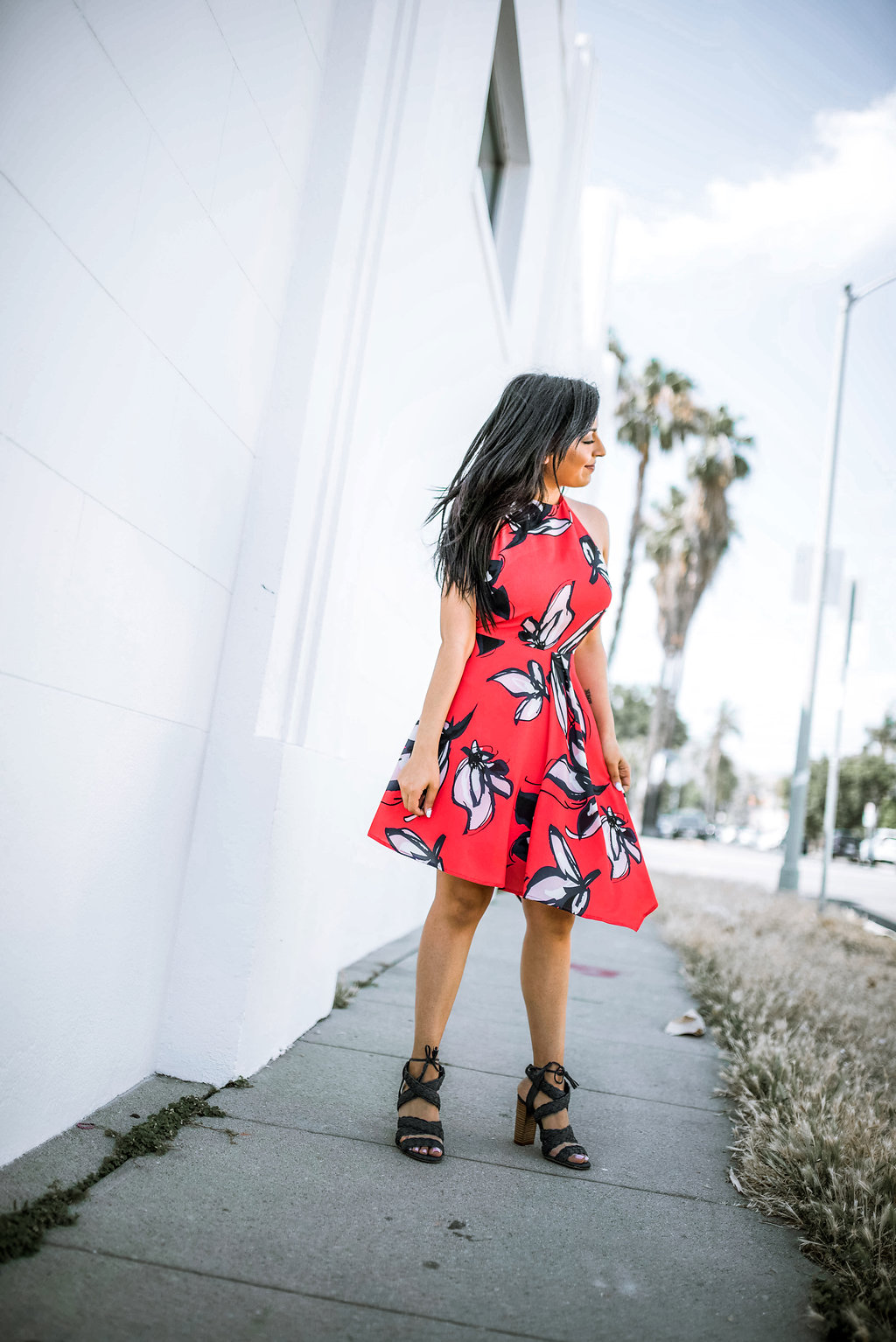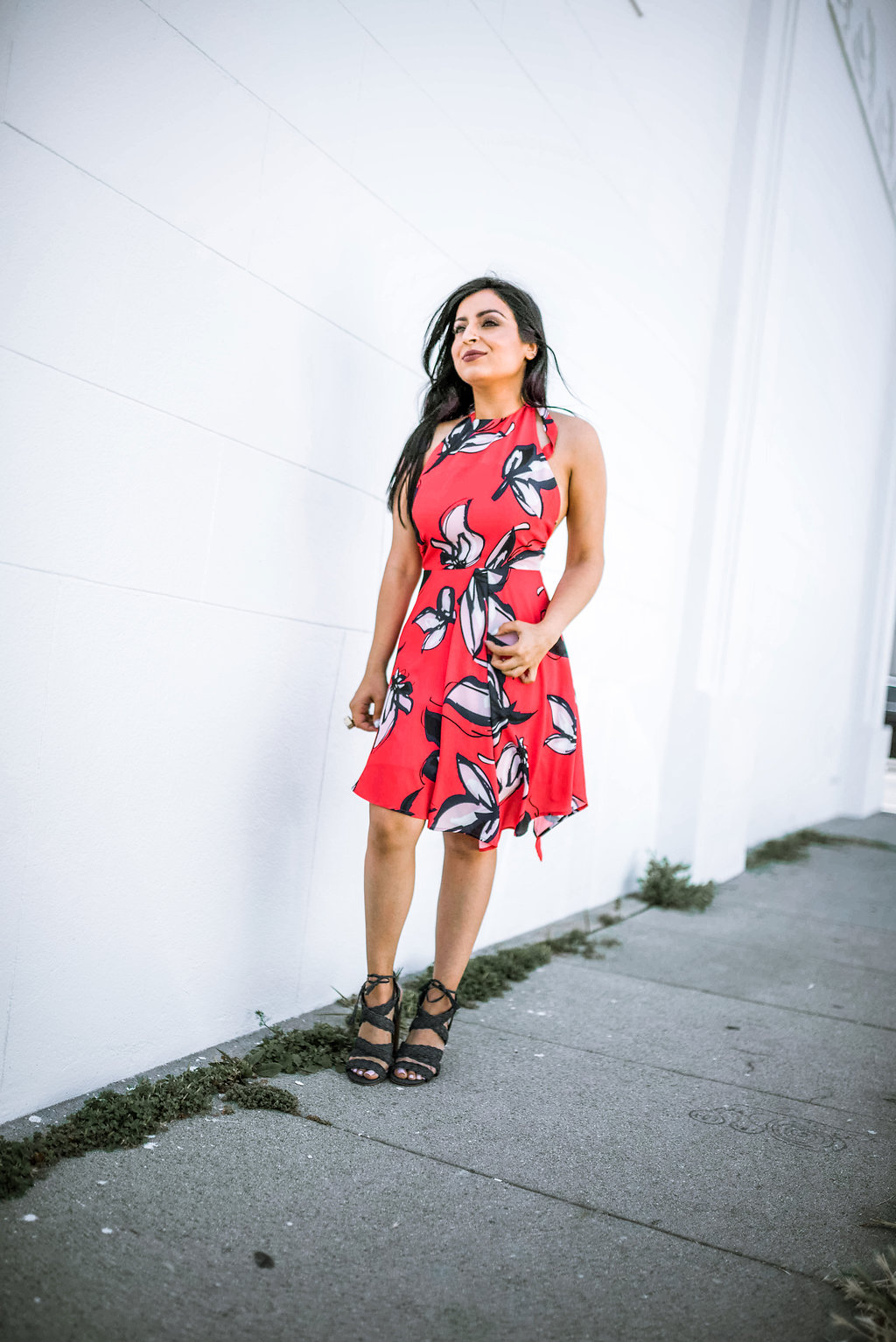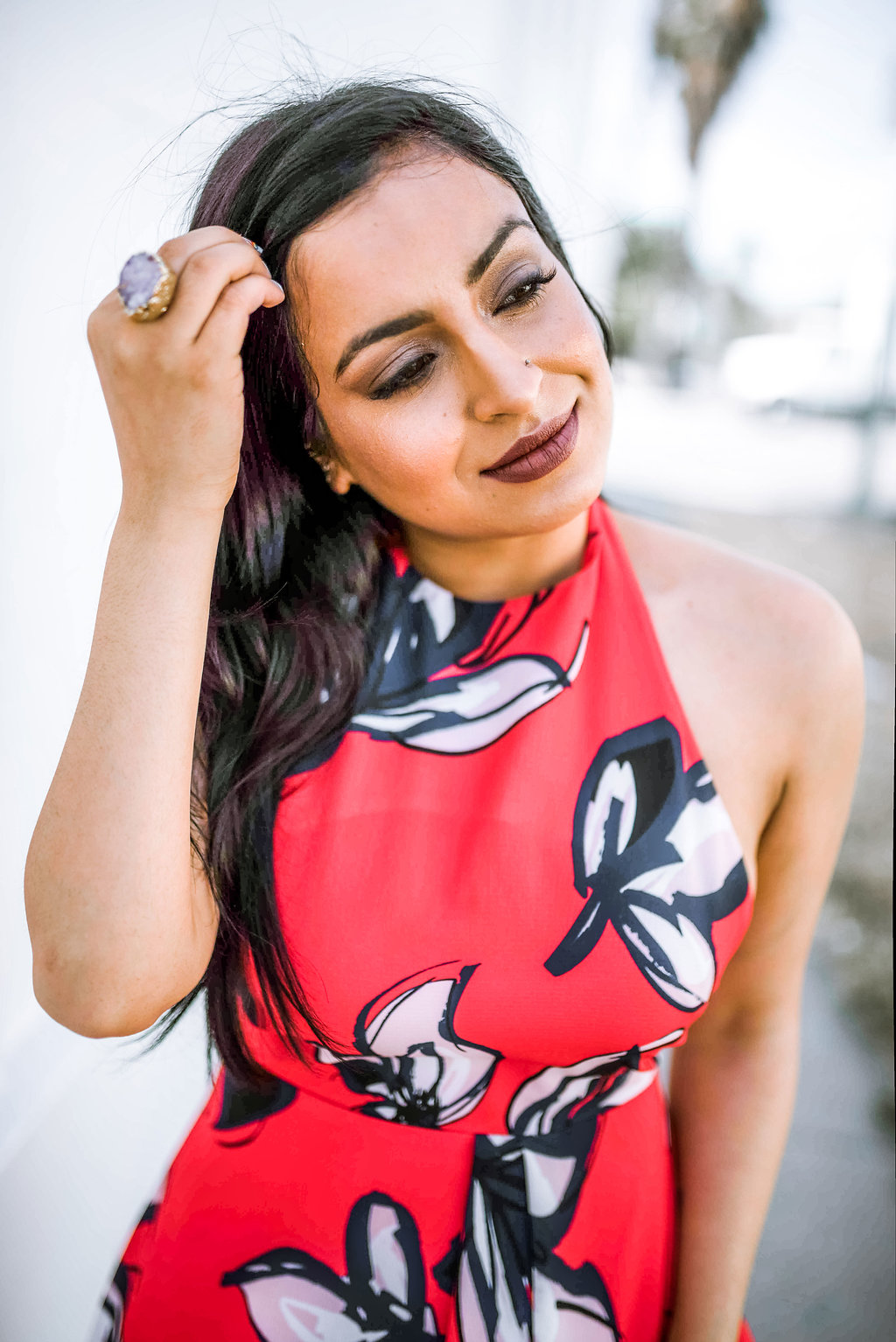 Hey Babes!
Hope you all had a wonderful weekend. I spent mine mostly filming videos for you guys. If you haven't already, please go subscribe to my YOUTUBE CHANNEL. I cannot wait to share some exciting content with you there!
And now onto today's blog post :)
With hotter temperatures around the corner in Los Angeles, I have to get out of my comfort zone of wearing all black 24/7 and start experimenting with color.
I am not a huge fan of bright colors but when a piece fits great , I can make it work.
I decided to go with this gorgeous coral piece and paired it with denim block heels. Can we talk about the details on this dress, though? The flowers make it so sophisticated and almost make the dress feel like a piece of art.
These heels I am rocking are the trend right now, and they are something different to add to the mix for summer. I surprisingly found them to be quite comfortable as well. As you know, I'm a shorty, so I need my height ;).
I especially adore this dress because  you can take it from day to night.  Yes to pieces I can throw on all the time with minimal effort, hehe! This will be on repeat for quite awhile, I mean I just cannot resist.
The options are endless. You could wear it to a cute brunch with your girlfriends and even to a date night with your significant other. It is truly versatile and has a lovely shape to it. It is from Style Stalker and you can purchase similar dresses, HERE, (under 60 bucks!) here, and here.  (under 80 bucks!)
You guys, the reason I am head over heels for Style Stalker is because they literally have the best Australian designs. I feel like Aussies just get me. Every clothing line they create just works for my body type. The designs are also always so fresh and classy. (Some similar ones that I often wear are Asilio, Cameo Collective, and Finders Keepers).
The shoes are also too cute for words. They are by BCBG but I bought them from DSW. You will see me rocking these for all my upcoming travels. Be sure to shop similar ones, here (under 70 bucks),
I also found these ones, which are a similar steal for way less!
What do you think of this look? Would you rock this dress?
Tell me in the comments below, would love to hear your thoughts.
Xoxo,
Alisha
Follow me on Instagram, Twitter, and Facebook too!